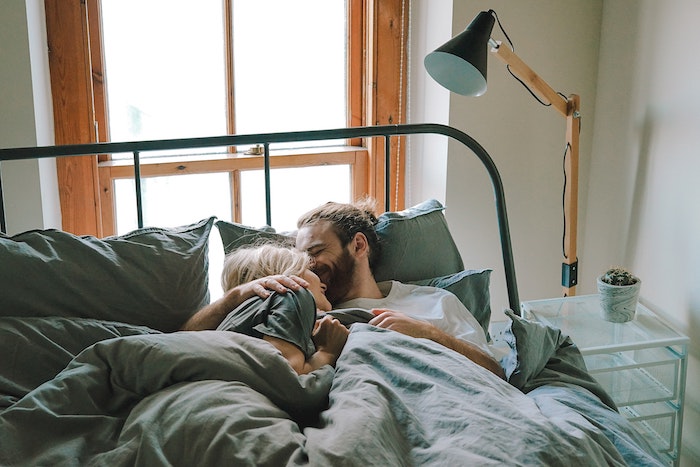 Feature Image by Toa Heftiba
We'll say what we all don't want to say: how in the world are we supposed to feel the love during quarantine? Whether you've been with your partner for quite some time or in the early stages of companionship, safer-at-home orders have made it difficult for us to feel the love.
To help you (and us) during this odd time, we've decided to round up some helpful tips and expert advice on how to keep your love life alive and well while at home.
Talk about how you're feeling
Are you stuck in quarantine with your significant other? During this time, don't be afraid to talk about your feelings – that includes both what bothers you and what doesn't. Creating that open dialogue with your partner and setting expectations can help you both remain sane. While you're communicating, try letting your partner know with signals that they're also safe to share their feelings.
"On an interpersonal biological level, these responses and behaviors do so much more. Touch and eye gaze promote trust and intimacy by opening the flow of the hormone oxytocin, often thought of as the cuddle hormone. It's what drives the attachment between mothers and babies, where we first experience the power of love," says Dr. Sue Mandel, psychologist, marriage and family therapist, and relationship.
Designate time apart
Do you remember the days when you missed your partner terribly so and couldn't wait to reunite at the end of the long day? Designating different spaces at home can help stimulate that feeling of longing. While you're working or working out, switch up your location so you're alone. Go outside for a bit, watch your shows in the bedroom, and let them take over the living room for a little while. Doing so will make those moments in which you reunite feel a bit sweeter.
Make time for togetherness
It's crucial to plan special moments for you and your partner to share together. While you may be sharing the same space, that doesn't mean you're spending quality time together. Plan for date nights as you would if you weren't in quarantine, like these for example:
Look up recipes to cook together, put on your chef's hat, and get to cooking.
Safely walk around your neighborhood and talk about new things you've learned that day.
Pick a hobby to learn together, and schedule a time to start the said hobby.
Have movie nights where you both get to pick one movie each.
Make time for intimacy whether that means cuddling or spicing things up in the sheets.
Remember to do the little things
Dr. John Gottman of The Gottman Institute says that "successful long-term relationships are created through small words, small gestures, and small acts." So whether you're in the honeymoon stages, in the thick of a long-term relationship, or still learning about someone, it's crucial to do those little things for someone you care about. This holds extremely true for any successful relationship, and even more so while we're going through this undoubtedly weird time.
We hope you enjoy these dating tips, and if you have any tips we missed – drop them in the comments below!
xx, The FabFitFun Team