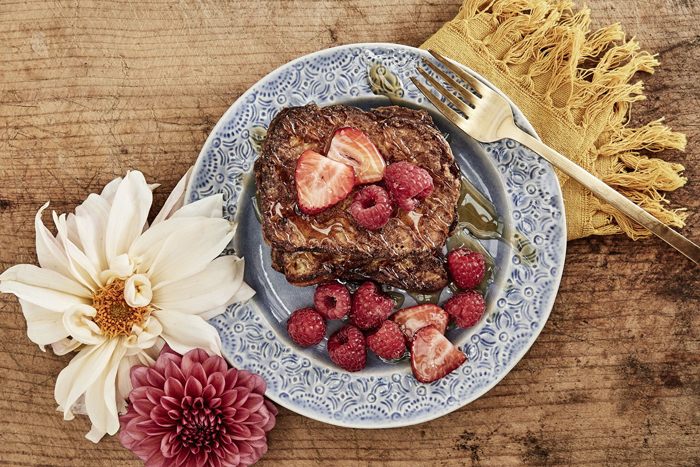 Feature Image by Jenna Peffley
Even the most passionate chef can lose motivation and creativity in the kitchen when cooking becomes a necessity instead of a hobby. As a home cook, Brandi Chang loves being in the kitchen (accompanied by friends and a glass of red wine, of course) but times are a bit different now, and like so many of you, she's experimenting with how to adapt. May we suggest FaceTime-ing with friends and a heavier pour of wine?
Here are a few essential recipes from her cookbook, Family Style, for every meal of the day.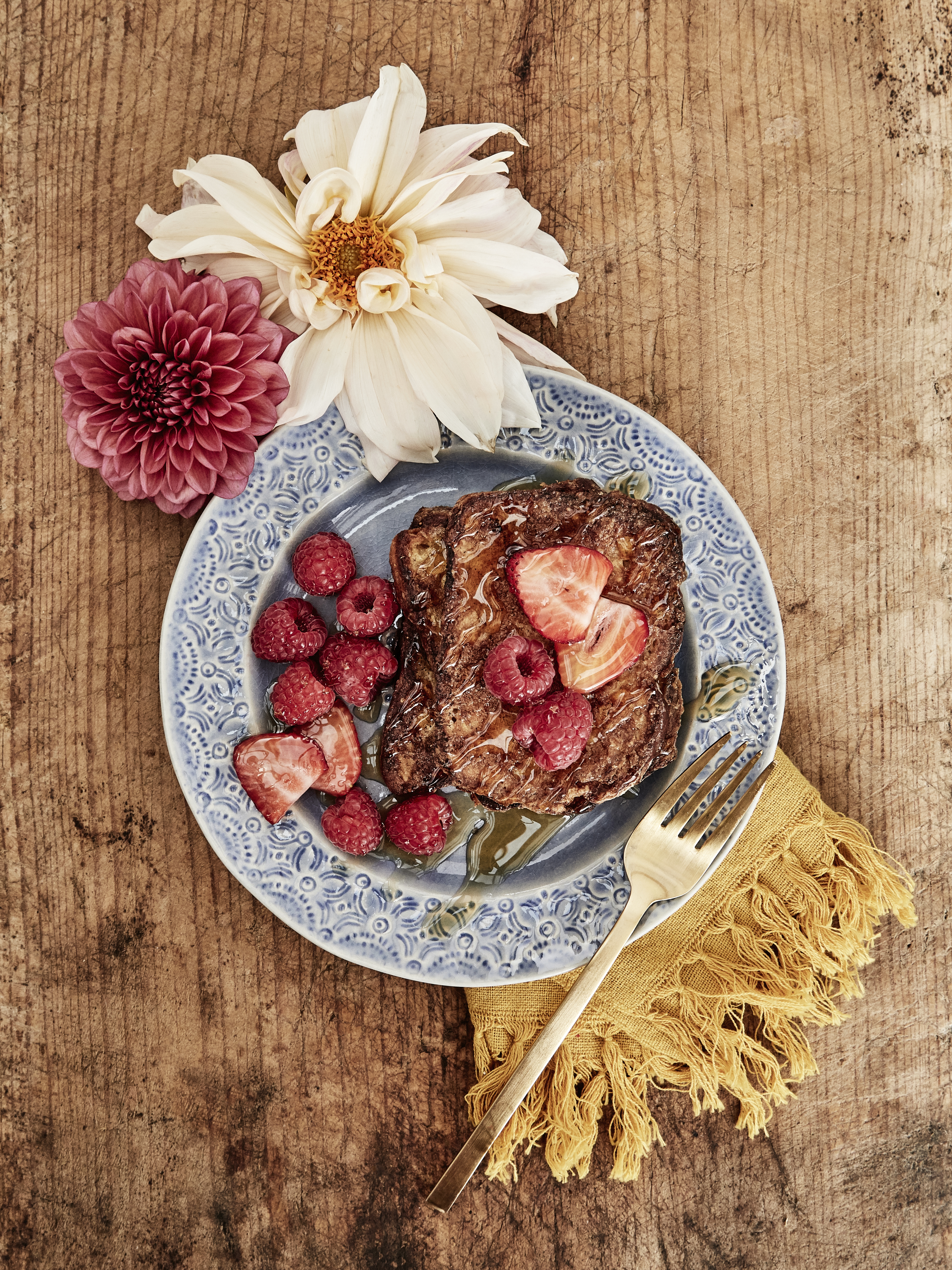 Breakfast: Berry Good French Toast
"I love this recipe because it seems fancy but it's actually super simple, and you probably already have the ingredients at home. It's a healthy breakfast you can prepare in under ten minutes but feels like a real treat. Make it on weekend mornings for your family. Slice the bread into french toast sticks that kids will love to dip into pure maple syrup."
Ingredients
4 eggs
1 cup unsweetened plain almond milk
1 tablespoon pure maple syrup, plus more for serving
1/2 teaspoon pure vanilla extract
1 teaspoon ground cinnamon
1/4 teaspoon ground nutmeg
Pinch of sea salt
8 slices gluten-free bread
Coconut oil or vegan butter (I prefer Earth Balance)
Almond butter
Berries
Directions
1. In a medium bowl, whisk together the eggs, almond milk, maple syrup, vanilla, cinnamon, nutmeg, and salt.
2. Place bread into a shallow baking dish in a single layer. Pour egg mixture over bread. One at a time, gently press down on the bread to let soak. You want the bread to be covered but not soggy. Flip to coat evenly on each side.
3. In a large skillet over medium heat, heat the coconut oil or vegan butter. I don't often use vegan butter, but I really like using it for this recipe. When the pan is hot, add the bread slices and cook for 2-3 minutes per side, or until golden brown. Repeat with remaining bread.
4. Serve topped with almond butter, berries, and maple syrup.
---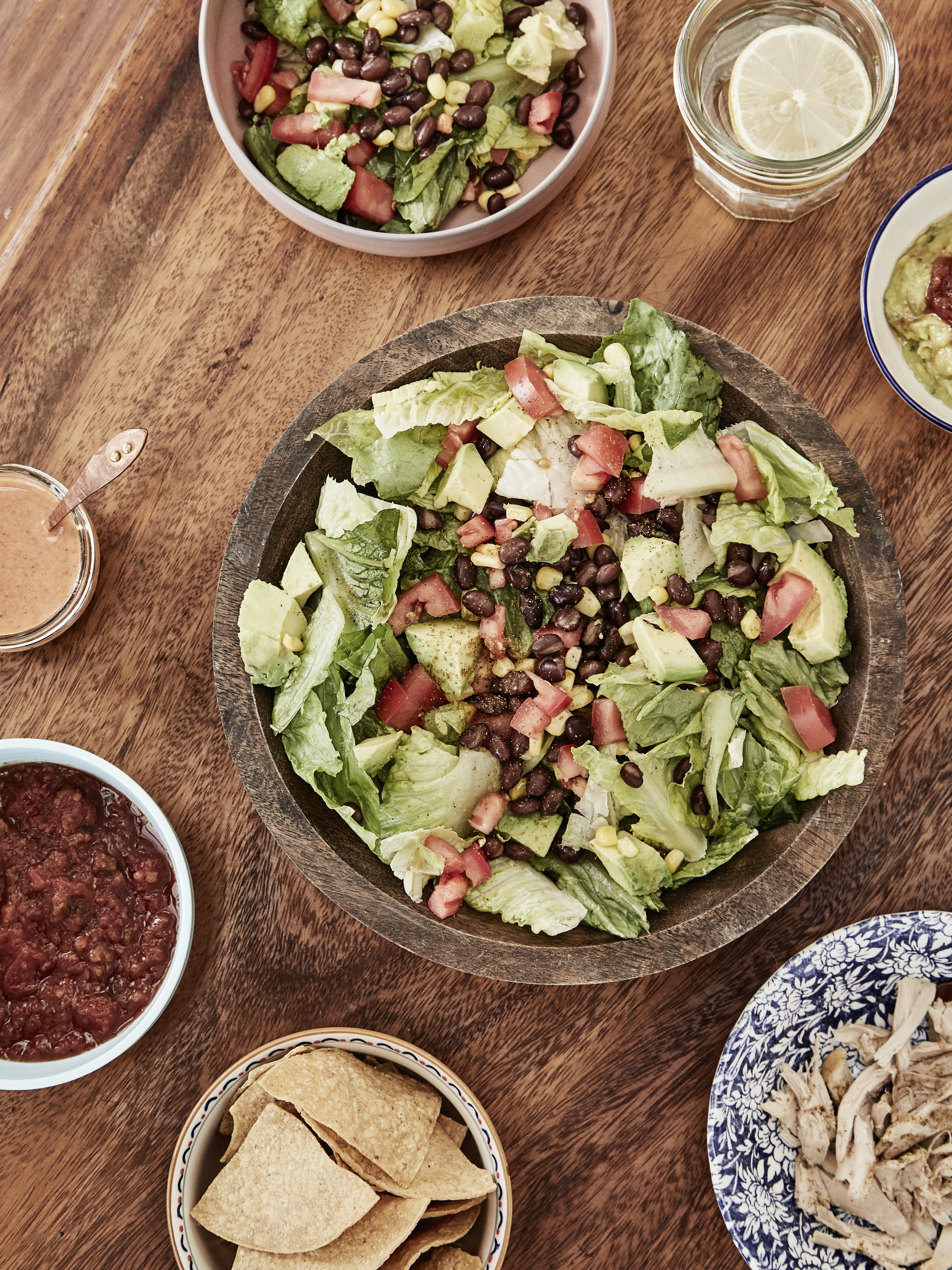 Work From Home Lunch: Southwestern Salad
"When taking a midday lunch break the last thing you want to do is dirty a bunch of dishes, spend twenty minutes making a meal, and find yourself hungry an hour later. This southwestern salad is a delicious solution for lunch while working from home. Make it with or without chicken. I like to prep the bean mixture ahead of time and keep it stored in the fridge for easy assembly throughout the week."
Ingredients
Dressing:
1/2 cup nonfat plain greek yogurt or coconut yogurt
1 teaspoon garlic powder
1/4 teaspoon onion powder
1 teaspoon fresh lemon juice (or substitute apple cider vinegar)
1/2 teaspoon dried dill
1/4 teaspoon kosher salt, plus more to taste
3/4 teaspoon chipotle chili powder (or substitute few dashes chipotle flavored Tabasco hot sauce)
2 tablespoons water
Salad:
1 15-ounce can black beans, drained and rinsed
1 15.25-ounce can corn or 16-ounce bag frozen corn
2 Roma tomatoes, seeded and cut into small pieces
2 avocados, diced
1 lime, juiced
1 teaspoon taco seasoning (or cumin for cleaned-up version)
Kosher salt
Freshly ground black pepper
4 boneless, skinless chicken breasts (optional)
4 romaine hearts, washed and chopped Corn tortilla strips or crushed Doritos
Directions
1. To make the dressing: In a small bowl or mason jar, add all of the dressing ingredients and mix until well combined. If using a mason jar, you can simply put the lid on and shake the jar. Set aside or refrigerate.
2. To make the bean mixture: In a medium bowl, combine the beans, corn, tomatoes, avocados, and lime juice. Add taco seasoning (or cumin), and salt and pepper to taste. Cover and refrigerate
3. To cook the chicken (optional to add): Cook the chicken breasts on the grill for 4 minutes on each side, or until cooked through. Take off the grill and place into a shallow pan. Sprinkle taco seasoning on the chicken, cover with aluminum foil and let sit. Let cool for about 15 minutes and place onto a cutting board. Cut the chicken into bite-size pieces. Add chicken (and its juice) to bean mixture.
4. To dress the salad: Lightly coat the romaine hearts with the prepared dressing. Add the bean mixture and toss. Garnish with corn tortilla strips or crushed Doritos for a Midwest twist.
---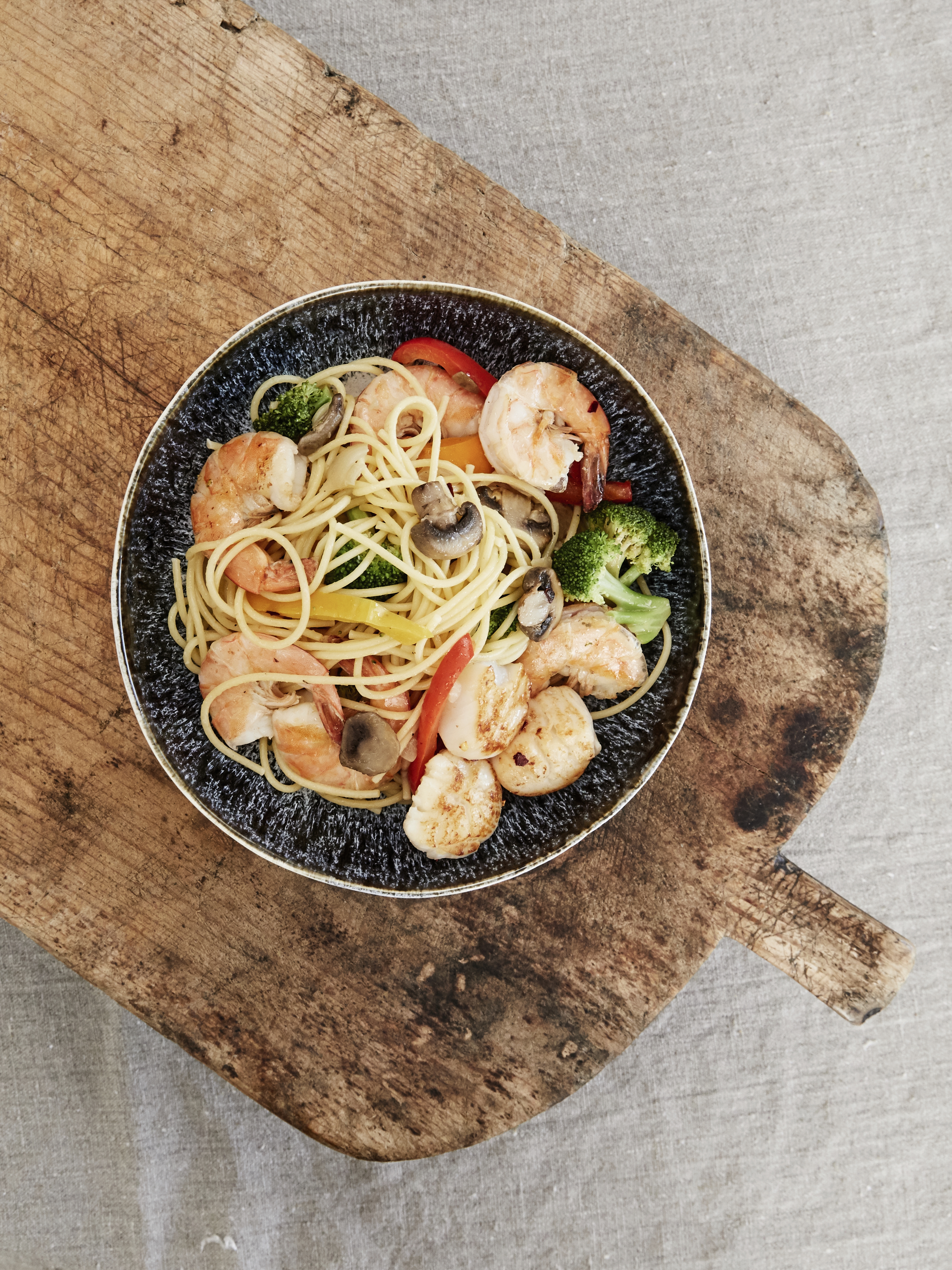 Date Night: Seafood Pasta
"OK, so maybe going out for date night isn't exactly a little black dress occasion at the moment. But it doesn't have to be any less exciting. My mom's recipe for seafood pasta feels like date night on a plate (because date night = pasta, right?) Have you ever heard of Ina Garten's Engagement Chicken? Think of this as Proposal Pasta."
Ingredients
1 pound bay scallops
1 pound large shrimp, peeled and deveined
1 tablespoon olive oil
1 teaspoon crushed red pepper flakes, plus more for serving
1 sweet onion, chopped
2 cups white mushrooms, thinly sliced
1 red bell pepper, chopped
1 head broccoli, chopped
1 8-ounce box spaghetti noodles
1 tablespoon toasted sesame oil
1/4 cup hoisin sauce
1/4 cup oyster sauce
1/2 lemon
Sesame seeds, for garnish
Directions
1. Place the scallops onto a paper towel to remove excess water. Clean and remove tails from the shrimp and place them in a bowl. Drizzle the shrimp with olive oil and add 1 teaspoon of red pepper flakes, tossing to coat. Cover the shrimp and place in the fridge to chill.
2. Heat a pot of salted water and bring to a steady boil.
3. Meanwhile, in a deep skillet or wok over medium heat, heat the olive oil. Sauté the onion for 2 minutes. Add mushrooms, toss and cook for 2 minutes. Add red bell pepper and cook for 1 minute. Add broccoli and cook for 2 minutes. Transfer the cooked vegetables from the skillet into a bowl and set aside.
4. In the same skillet, cook the scallops and shrimp for about 2-3 minutes per side, until both are opaque and slightly browned (shrimp will turn pink). Add the vegetables back into the skillet and turn off heat.
5. Once the water is boiling, add the noodles and stir to prevent them from sticking. Cook according to package instructions, about 7-9 minutes. Once fully cooked, drain and add the sesame oil to the noodles.
6. In the skillet with scallops, shrimp and vegetables, add the hoisin sauce and oyster sauce and stir. Add the noodles and reheat the skillet. Using tongs, toss to mix the ingredients.
7. Squeeze a bit of fresh lemon over the final pasta dish. Garnish with sesame seeds and red pepper flakes and serve warm.
---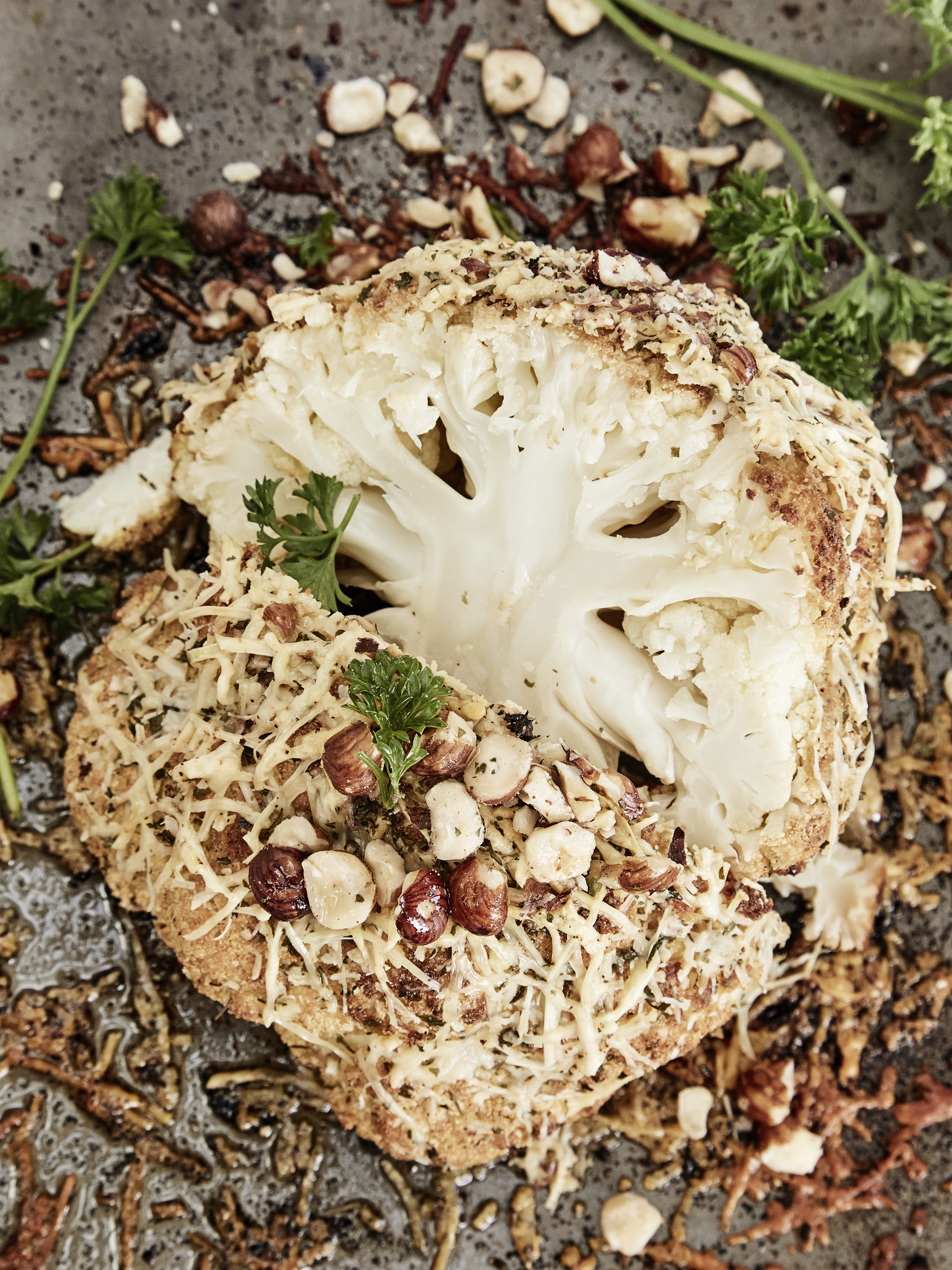 If You're Tired of Cooking: Parmesan Roasted Cauliflower
"Because there are definitely going to be days when opening a bag of chips feels like too much manual labor, I give you a parmesan roasted cauliflower that basically cooks itself. Sure, you'll need to do something but trust me, it doesn't get much easier than this."
Ingredients
1 large head cauliflower
1-2 tablespoons garlic powder
2 tablespoons Dijon mustard
2 tablespoons olive oil
Pinch of sea salt
Freshly ground black pepper
1/2 cup fresh parsley leaves, roughly chopped
1/4 cup grated Parmesan cheese
Roasted hazelnuts, for garnish
Lemon wedges, for serving
Directions
1. Preheat the oven to 350 degrees F. Line a baking sheet with aluminum foil.
2. Remove the leaves from the cauliflower, then trim the bottom of the head so that the cauliflower sits flat on the baking sheet. Place the cauliflower onto the prepared baking sheet and dust with garlic powder.
3. In a small bowl, whisk together the mustard, oil, salt, and black pepper to taste. Using a brush or your hands, coat the entire outside and inside of the cauliflower with most of the mustard-oil mixture. You will use the remaining mixture later.
4. Roast the cauliflower until tender, about 50 minutes to 1 hour. Remove and let rest for a few minutes.
5. Meanwhile, in a small bowl, combine the parsley and Parmesan cheese. Cover the outside of the roasted cauliflower head with the remaining mustard- oil mixture and generously sprinkle with Parmesan mixture.
6. Place the cauliflower back into the oven and broil for 2-3 minutes to melt the cheese, careful not to burn.
7. Serve whole or cut the cauliflower into thick wedges. Garnish with crushed roasted hazelnuts, and serve warm with lemon wedges and any remaining Parmesan mixture.
xx, The FabFitFun Team