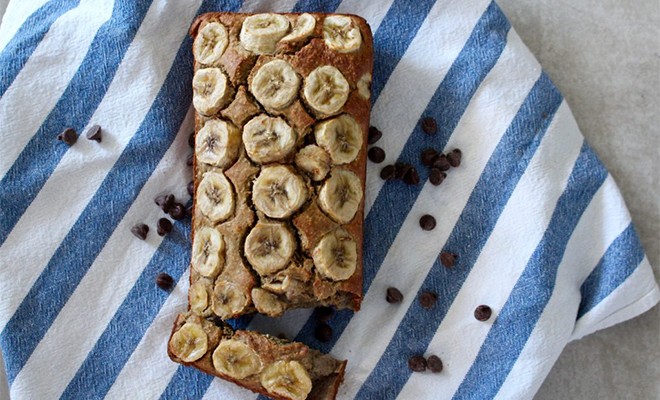 Finding a healthy banana bread is a hit or a miss situation. You either get that ideal balance between moist and fluffy with the perfect banana undertone, or you end up with a crumby mess. While I'm a big fan of the usual buttery banana bread, I'm definitely not opposed to a quicker and cleaner option that can double as breakfast and dessert. This recipe is also parve for those who keep kosher. So if your hunt has led you to find a moist banana bread that's gluten free, flour-free, dairy-free, and added sugar free, then you've come to the right place.
To make the finished product, it's much easier than you think and only requires a few ingredients and a blender. I've replaced the flour with oats and the sugar with maple syrup to lighten it up. If you're craving a chocolatey banana bread, don't hesitate to add semisweet chocolate chips to your batter.
Ingredients
3 large bananas, very ripe (plus extra for garnish, if desired)
2 cups oatmeal, I used quick oats
2 eggs
¼ cup maple syrup
1 teaspoon baking soda
½ cup semi-sweet chocolate chips (optional)
Directions
1. Preheat oven to 375F, lightly grease loaf pan, and set aside. I used a touch of avocado oil and a 9×5-inch baking pan.
2. Pour all of the ingredients in a blender, except for the extra banana and chocolate chips. Blend until batter is smooth and creamy. Pour into loaf pan and top with banana slices. Bake for 25 minutes, or until the top is lightly browned. To test doneness, stick a fork down the center and if it comes out clean it's ready.
3. Let cool and serve with fresh banana slices and a drizzle of maple syrup.
For the latest and greatest info on health, wellness, and delish recipes, be sure to check out TheWholeTara.com!
---
This story was written by a fab member of our Ambassador Network.