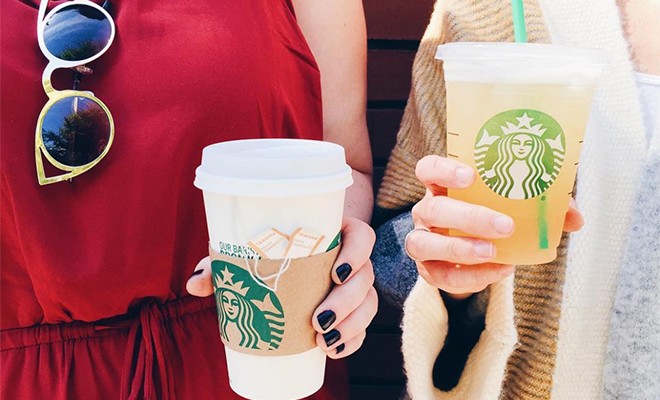 @starbucks
During the holiday season, we can't help but indulge in all of Starbucks' special holiday beverages (Gingerbread Latte, anyone?).
However, the upcoming holiday season also means longer lines, misspelled names, and even some beverage shortages — and the blame always goes to the baristas. But, did you ever stop to think that maybe it's actually not their fault?
Lucky for us, one of our FabFitFun team members, Blake Avila, is a former Starbucks barista. He gave us the inside scoop on the best ways to order your drink so you can get through the line faster (and happier).
Order Your Drink This Way
Yes, there is actually a certain order to follow when ordering your drink. "Start with what size you want. Baristas can't start writing your order if they don't know which cup to grab. If you don't want a hot beverage, start with 'iced.' Many customers mention this at the end after the order has been written on a hot cup." Also, tell your barista if you do or don't want whip or if you want your iced coffee and iced tea unsweetened as some drinks have these built into the recipes while others do not.
Spell Your Name
Starbucks baristas get called out way too often on social media for misspelling names. "Spell your name and spell it slowly. Despite all the jokes, memes, and YouTube videos, most baristas actually do care about your name and are really trying to spell it correctly."
Don't Be Afraid to Ask Questions
"I hardly ever went to Starbucks before I started working there and I was always super intimidated. It's better to clear up any confusion than walk away with a drink you didn't want or having to wait longer for them to make another drink." For example, you can ask the barista how many pumps of syrup your drink normally has to lessen the sweetness and cut down on sugar. Many drinks still taste just as great with only half the amount of syrup the recipe calls for.
Use the Starbucks App
You can use the Starbucks app to pay for your drink. "It'll give you an estimated time when your drink will be ready and allows you to pay ahead of time. All you need to do is walk to the bar, tell them your name, and they'll hand you your drink." It'll make it so much easier for you to pick up your drink if you're in a rush.
xx, The FabFitFun Team