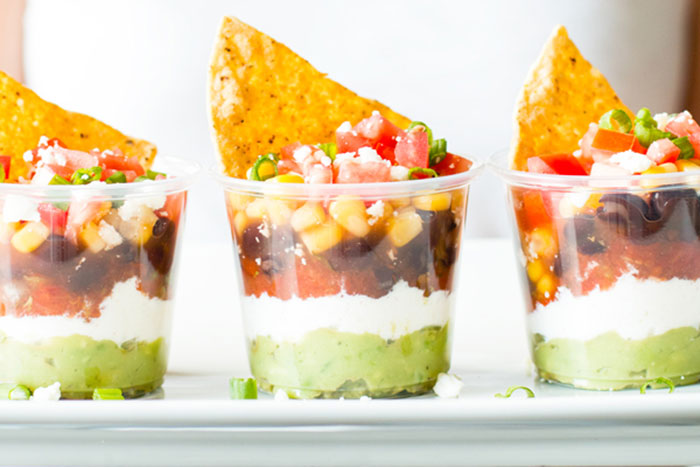 Feature Image by evolvingtable.com
Super Bowl Sunday is this Sunday, which means good food, a slew of funny (sometimes wacky) commercials, and a halftime show to remember (raise your hand if you're a Justin Timberlake fan).
Whether you're rooting for the Philadelphia Eagles or the New England Patriots, you're going to want some tasty bites to munch on while watching the big game. Check out some easy appetizers you can whip up below.
Nothing beats a classic chip and dip combo. Luckily, this recipe is so easy it's basically foolproof. Combine onions, bell pepper, cream cheese, Greek yogurt, cheese, and roast beef for this delicious take on a fan-favorite dish.
---
These pinwheels are the perfect grab-and-go recipe. All you need is cream cheese, jalapeños, cheese, bacon, seasoning, and 10 minutes of your time to roll these babies up.
---
Root for your team with your food. This easily customizable recipe starts with a popcorn and marshmallow base, then topped with M&M's and chocolate chips (pick your colors accordingly!).
---
Cheeseburgers are an American staple, but pair them with tater tots and you've got a completely new flavor combination. Use a muffin pan to shape the tater tots into cups and top with your traditional cheeseburger ingredients.
---
Who doesn't love a good seven-layer dip? Ensure everyone gets their fair share with these single-serving cups. Layer guacamole, sour cream, salsa, black beans, corn, tomatoes, and green onions for a truly tasty and Pinterest-worthy snack.
---
Super Bowl Sunday calls for some finger foods. Fry up a batch of these parmesan bites and serve 'em up with a side of marinara sauce. Trust us, these are so good you won't have to deal with any leftovers.
---
If you have a little extra time, give these shrimp cups a whirl. Use wonton wrappers as the base and top with arugula, sour cream, and a big juicy shrimp. The crunch from the toasted wonton wrappers and the spice and tang from the chili lime shrimp make for a flavor combo that'll leave everyone wanting more.
---
We can't get enough of five-ingredient recipes (they're just so easy!). Grab a medium pot and throw in cheese, cream cheese, sour cream, milk, and season it to taste for a vegetarian-friendly dip that pairs well with any crunchy chip.
---
This drool-worthy recipe combines two flavorful ingredients you know and love: olives and feta cheese. Coat the two in crushed hazelnuts to take the appetizer to the next level.
---
A Super Bowl viewing isn't complete without some buffalo chicken. These individual bites make it easy for you and your guests to enjoy all of the flavors in one bite. Plus, they're so simple to make!
What's your go-to Super Bowl recipe? Let us know in the comments below!
xx, The FabFitFun Team