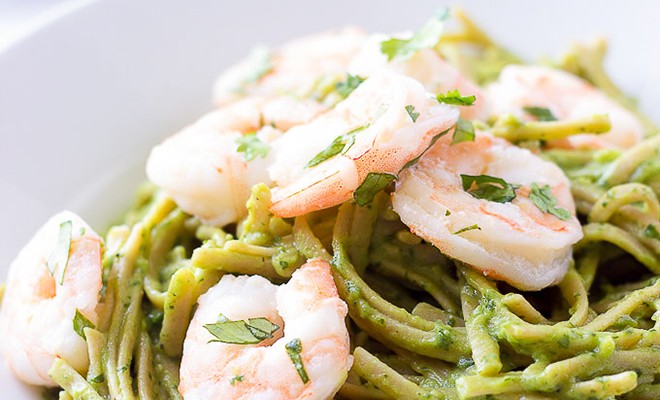 thewholesomedish.com
Everyone deserves a pat on the back for surviving the avocado shortage. Let's forget about the hard times and look to our future dinners that's desperate for a dash of the green stuff.
Enter: avocado pasta. Give your typical marinara sauce a well-deserved break and try one of these creamy sauces. From BLT-inspired pasta salad to a mac 'n' cheese update, these avocado recipes will have a place in your heart (and stomach) forever.
Creamy Avocado Spinach Pasta With Mozzarella and Gruyere
A hearty pasta with lots of cheese is a dish we can get behind. We love this rich sauce combined with stringy cheese in each bite. Your next dinner just became your most decadent meal yet!
---
Avocado and Sun-Dried Tomato Pesto Pasta
You would never know that avocado was the secret to making this pasta taste so incredible. This sauce pairs well with any pasta, but good ol' spaghetti might just be our favorite.
---
Creamy Cheesy Avocado Mac
Take your favorite macaroni and cheese recipe to the next level by adding avocado into the mix. This recipe is as easy as boiling the pasta, making this the perfect weekday dinner.
---
BLT Avocado Pasta Salad
Your heart says sandwich, but your mind says salad. Meet in the middle with this BLT avocado pasta salad — it has all of the components of everyone's fave sandwich, but with extra avocado and a little bit of pasta, all atop a bed of romaine.
---
Potato Gnocchi with Avocado and Deconstructed Basil Pesto
Prepare for this to be your new favorite meal after you have just one bite of the gnocchi. The avocado tastes divine among the cherry tomatoes, garlic, and green beans. Sprinkle parmesan and dried parsley to bring it all together!
---
Cilantro Lime Shrimp and Avocado Pasta
We can't get enough of this satisfying shrimp pasta (that isn't a total calorie bomb to boot!). The creamy sauce is a combo of avocado, spinach, cilantro, lime juice and spices and compliments the cilantro lime shrimp wonderfully.
---
The Best Avocado Pasta
Tangy pasta with a glass of wine sounds like #heaven. Make it a reality with this superb and easy to follow recipe. The avocado sauce contains garlic, parmesan cheese, olive oil, lemon, and basil and results in a super creamy concoction!
xx, The FabFitFun Team