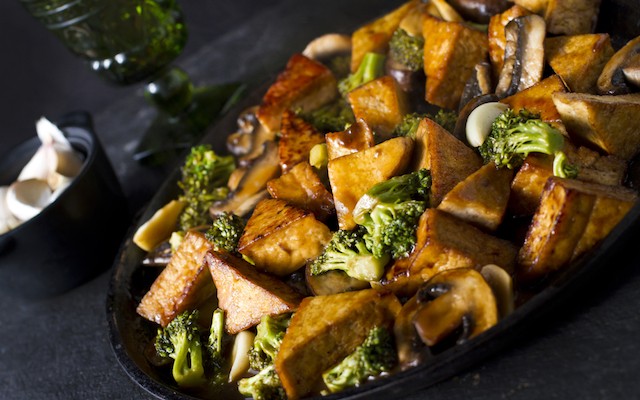 When you're craving something sweet and savory, there's just nothing better than an Asian-style stir fry. That's why we created this divine marinated tofu and veggie bad boy! (Bonus points that it's super easy to make.)
Protein-packed tofu is the perfect meat substitute for dishes like these. The combination of mushrooms and broccoli compliment the sauce perfectly, and crispy tofu adds just the right amount of texture. Get creative with what you pair with your stir-fry. Try eating it with a different rice grain than you're used to (we're currently loving black rice!)
Happy grubbing!
Veggie Tofu Stir-Fry
Ingredients
1 pound fresh mushrooms, sliced
1/2 pound fresh broccoli, sliced
14 ounces of extra firm tofu, drained and cut into 1 inch cubes
6 tablespoon low sodium soy sauce
1 tablespoon sesame oil
1 teaspoon chili sauce, we used sambal
1 tablespoon honey
1 tablespoon Hoisin sauce
2 tablespoon olive oil, divided
1 teaspoon fresh ginger, minced
3 garlic cloves, minced
1 cup green onion, chopped
Directions
1. Mix the soy sauce, sesame oil, and chili sauce in a large bowl.
2. Add the tofu cubes to the bowl, stir to coat tofu well, then cover and let marinate for 30 minutes.
3. Remove tofu from bowl, and add the honey and hoisin sauce in with the sauce in the bowl. Stir well and set aside.
4. In a wok or large fry pan, heat 1 tablespoon olive oil on medium high heat, then add the ginger and garlic. Stir frequently to prevent burning, about 40 seconds.
5. Add the tofu to pan and cook until it's golden brown. Be sure to stir frequently, and turn the tofu in order for even cooking, and no burning! Takes about 7 minutes.
6. Once tofu is done cooking, remove tofu from pan, add the left over olive oil to pan, add the mushrooms and let cook for 2 minutes.
7. Toss in the broccoli into the pan and cook for an additional 4 minutes.
8. Lower the heat to medium and add the tofu and sauce mixture from mixing bowl in the pan with mushrooms and broccoli and toss evenly together. Let cook for 3 minutes.
9. Remove from pan and garnish with chopped green onion and sesame seeds (optional).
10. Serve over your choice of rice.
xx, The FabFitFun Team