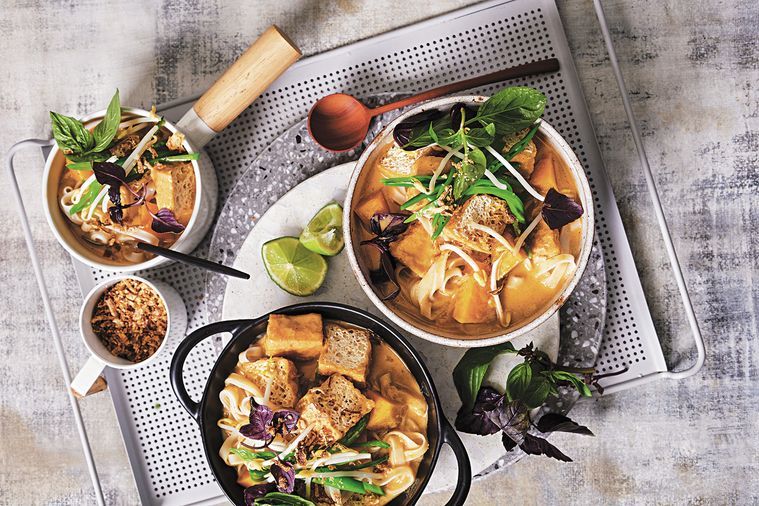 Feature Image by delicious
Here's an ingredient that people either love or love to hate: tofu. This source of protein is packed with nutrients like calcium, selenium, iron, and magnesium, so it's super good for you. You can enjoy it soft, baked, grilled, and even fried.
However, most frustrations with this chewy substance come from a place of confusion and questions like, "How can I enhance this rather plain ingredient?"
If you're new to tofu or want to spice up your tofu concoctions, hear us out. We're dishing out some of our favorite, most unique tofu plates that we're cookin' with as of late.
Almond crust? Sounds delicious. This vegan dish is super crunchy, flavorful, and versatile. It's high in protein (thanks to the almonds), and it's gluten, grain, sugar, and oil-free. It pairs well with rice noodles and a delicious Asian-style dressing like zaru soba sauce.
---
You don't need a whole lot to whip up this tasty dish. The ingredients are in the name, with a few exceptions like garlic, ginger, snow peas, cinnamon quill, and fish sauce playing a role in rounding out this cozy dish.
---
For all the taco lovers out there, this mighty dish is sure to pack a punch. Your taco Tuesday will never be the same. If you're looking for a tofu dish with a spicy tart crunch and bursts of flavor — this is it.
---
This recipe joins together two delicious types of foods: Indian and American. The burger is a classic, and spices that are common in Indian dishes are just what the burger needed to reach its peak potential. This recipe calls for veggies like arugula, spices like garam masala, black beans, and goat cheese.
---
If pineapple on pizza isn't already such a hot topic, this recipe challenges the status quo by incorporating tofu and spicy barbecue sauce onto the pie. This vegan pizza is flavorful and super easy to make.
xx, The FabFitFun Team