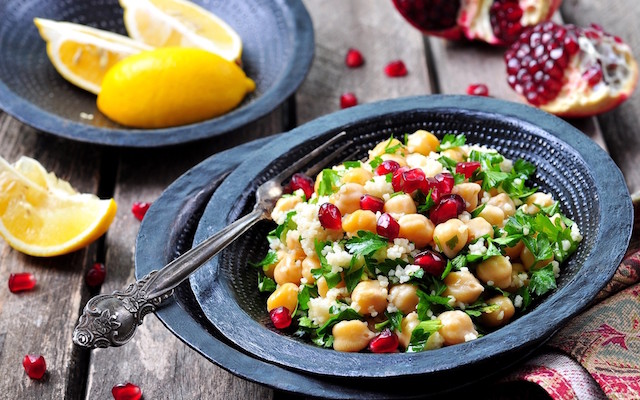 The sunny seasons call to us; they want us to tan at the beach, travel with friends, and drink champs in by the pool. But before we get way ahead of ourselves, the first thing we all should be focusing on is our diet. Summer is right around the corner, and we want to feel as healthy as possible when we're cannonballing into the pool.
Veggie protein is nutritionally the healthiest kind of protein out there, which is why we're giving you this lemony pomegranate chickpea salad. It's super simple, hunger-satiating, and so good! Plus it takes little effort to whip up, and a big batch of this salad will last in your fridge for a week!
Nosh on this salad for quick energy before a workout, or as a light nutritious snack throughout the day.
Happy healthy eating!
POMEGRANATE COUSCOUS CHICKPEA SALAD
Ingredients
5 ounces pomegranate seeds
1 15 ounce can of chickpeas, rinsed and drained
1 large cucumber, cored and diced
1/2 cup couscous, cooked
1/2 cup parsley, chopped
2 avocados, cored and diced
1/2 cup extra virgin olive oil
1/4 cup lemon juice, freshly squeezed
2 garlic cloves, minced
Salt to taste
Directions
1. In a large salad bowl, gently toss together the chickpeas, cucumber, couscous, parsley, avocados, pomegranate seeds, and salt to taste.
2. In a blender or food processor, add the lemon juice, garlic, extra virgin olive oil, and salt to taste. Blend until smooth/ ingredients are well incorporated.
3. Add the dressing to the salad bowl with ingredients, gently toss, and serve.
xx, The FabFitFun Team