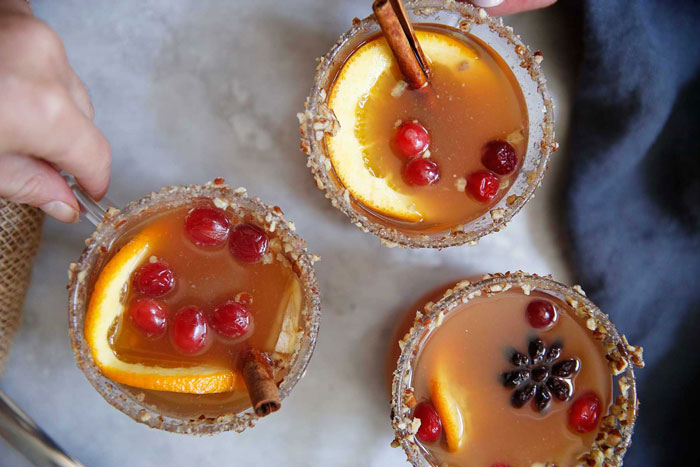 Feature Image by lexiscleankitchen.com
With all the decorations, food, and activities, prepping for a holiday party can be a little overwhelming, to say the least. Before you throw in the towel, consider starting with drinks – it's the easiest way to add a creative, festive touch to any soiree.
From eggnog and apple cider to hot peppermint mocha, we found a holiday libation that everyone can enjoy below.
Mix your choice of milk with classic gingerbread flavors like cinnamon, cloves, nutmeg, and ginger for a sweet, festive treat.
---
Yes, red velvet hot chocolate is a thing, and it's so easy to make. Add a dollop of cream cheese on top to impress all your guests.
---
For the white chocolate lovers, opt for this holiday-inspired peppermint dream.
---
Show off your bartending skills with this sweet mocktail. Don't forget the sugar rim and cinnamon stick!
---
If you don't like eggnog, it's because you haven't added caramel syrup, whipped cream, and sea salt to it.
---
Is there a better combination than chocolate and peanut butter? We don't think so.
---
Candy canes are pretty much synonymous with the holidays, so a candy cane milkshake is a must.
---
There's never a bad time for iced coffee. Add chocolate syrup and peppermint mocha creamer for a sweet pick-me-up.
---
Spike your cup of hot chocolate with chili powder. You'll be pleasantly surprised by the deeper, richer flavor.
---
Sip on mulled cider when you want a lighter alternative to the super-sugary shakes.
Looking for healthier drink options? Check out 10 low-calorie cocktail recipes here.
xx, The FabFitFun Team