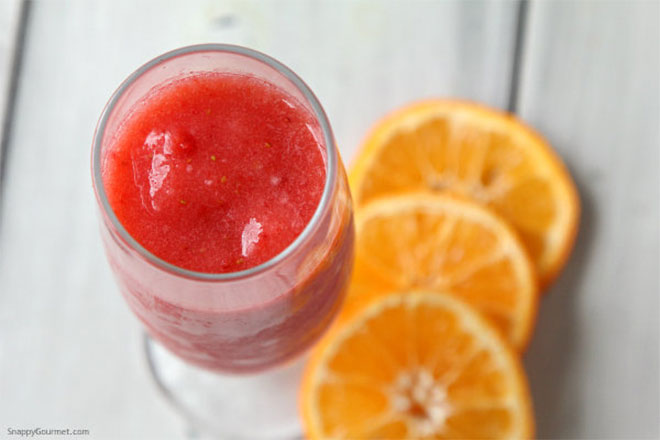 Is there anything quite as refreshing as a glass of wine after a long day? Well, yes there is. Enter the wine smoothie.
We're ub-sessed with these concoctions. They combine our favorite alc with a satisfying (and healthy!) fruit-filled smoothie. Not only are they insanely delicious, but they're also easy to make. Uncork your favorite bottle of red, white, or rosé and get blending!
Classic Wine Smoothie
Well, this recipe couldn't be any easier. Grab a bottle of white and a cup of frozen berries for the perfect summer beverage. Be careful — these go down very easily.
---
Raspberry Chocolate Wine Smoothie
Make your drink your dessert with this recipe. Get a bottle of chocolate wine (yes, it exists!), some raspberries, and blend with ice and almond milk for a frothy treat.
---
Strawberry Prosecco Slushie
This might be your new favorite frozen cocktail. Pull out your blender ASAP so you can enjoy this refreshing Prosecco infused drink during your much deserved happy hour.
---
Red Wine Smoothie
Calling all red wine lovers! Sipping this smoothie down shouldn't be a problem because it is uh-mazing. You'll get extra antioxidants in your system thanks to the blueberries so don't feel too guilty about skipping the gym.
---
Tropical Wine Smoothie
You don't have to be sitting on an exotic beach to enjoy this treat. Make sure you have your favorite bottle of white to toss in with the mango and pineapple and you'll be on vacation in no time.
---
Peach Moscato Wine Slushie
Make this delightful drink the next time you have the girls over and it might just inspire you to book a vacation by the end of the night. This three-ingredient slushie will have everyone feeling peachy in no time.
 xx, The FabFitFun Team