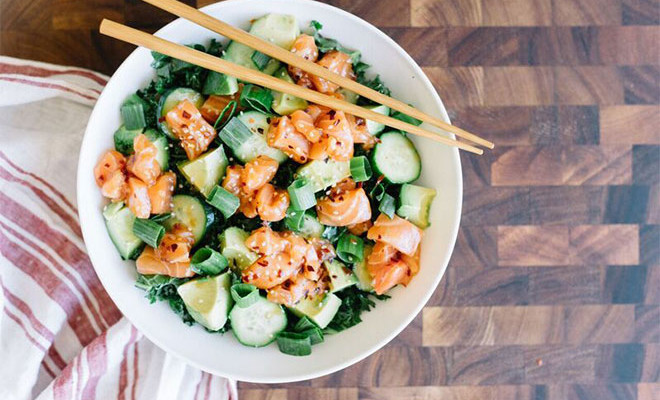 Recent studies suggest omega-3 deficiency contributes to chronic acne and adequate levels of this anti-inflammatory fatty acid will not only keep your skin clear but also increase cell hydration from the inside out.
Salmon poke is one of the best food sources for omega-3 fatty acids and protein. This fish is also known for its vitamin D and selenium, a mineral that protects the skin from the sun's harmful UV rays. Pair this poke bowl with avocado, kale, and coconut aminos and you have set yourself up for a #bwbkfabfour meal that will elongate your blood sugar and satiate you through your next meal.
Ingredients
2 tablespoons coconut aminos
1 teaspoon rice wine vinegar
1 teaspoon sesame oil
1 teaspoon sesame seeds, plus more for garnish
1/2 teaspoon red pepper flakes
1 pound sushi-grade salmon, cubed
2-3 scallions, thinly sliced
1 cup cucumbers
2 cup kale
1 avocado
Directions
1. Whisk together the coconut aminos, vinegar, sesame oil and seeds, and red pepper flakes in a medium mixing bowl. Add the cubed salmon and scallions, gently stir together to dress the salmon. Marinade for five minutes.
2. Meanwhile, pit and cube the avocado (the chunks should be of a similar size to the salmon). Add to the salmon and gently mix together to distribute the avocado.
3. To serve, scoop kale into bowls, top with poke, scallions, avocado, and cucumbers.
For the latest and greatest info on nutrition and wellness, be sure to check out BeWellbyKelly.com!
---
This story was written by a fab member of our Ambassador Network.