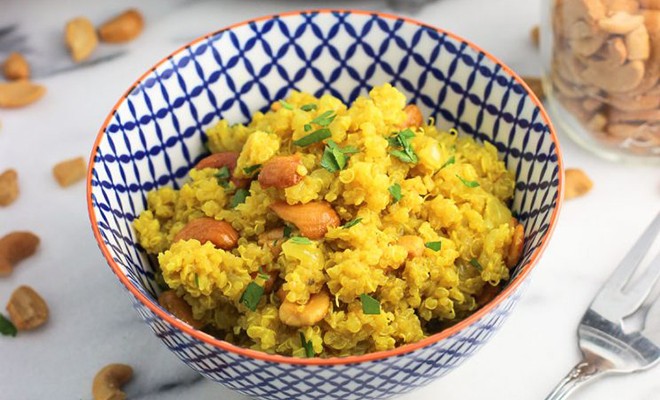 mysequinedlife.com
If you don't know about quinoa, you definitely should. Quinoa is a nutritious grain packed with protein, antioxidants, vitamins, and minerals. It's also pretty much flavorless, making it easy to incorporate it into any dish.
We also love how versatile it is; hence, we've included a plethora of recipes like hearty breakfasts and waist-friendly desserts. Here's how you can get creative with quinoa in the kitchen:
Microwave Cinnamon Maple Breakfast Quinoa
If your usual oats are starting to taste a little bland, switch it up by subbing the oats with quinoa. This breakfast for champs is rich in protein and will hold you over until lunch.
---
Quinoa Banana Bread
Maybe not the healthiest out of the bunch (because of the flour), the quinoa adds some extra nutritional value. So the next time you whip up a batch of banana bread, sneak some quinoa into the mix.
---
Quinoa Taco Salad
The variations of taco salads are endless, which is why they make almost every recipe list. Swap the rice out with quinoa for a protein boost and even add some tortilla chips underneath for a lightened up nacho dish.
---
Cheesy Spinach Quinoa Artichoke Bites
This finger food is the perfect appetizer or snack. These protein and veggie bombs are a great swap for your not-so-healthy pizza rolls and wings.
---
Coconut Turmeric Quinoa with Cashews
Take the health benefits of turmeric and the nutritional content of quinoa and you've got one wholesome meal. Enjoy this dish as a side or main course — either way, the flavorful combination will leave you wanting more.
---
Quinoa Fried Rice
Who doesn't love fried rice? This lightened up version makes for a yummy weeknight meal that can easily be stored and will undoubtedly be in your weekly dinner rotation.
---
Blueberry Quinoa Breakfast Bars
Instead of grabbing a sugar-laden breakfast bar, make a batch of these. Tasty, healthy, vegan, and gluten free, you can feel good about going for seconds.
---
Quinoa Cakes with Parmesan
The crispy top and fluffy interior creates the perfect side dish for dinner. Play around with the flavors depending on what you're craving. Trust us, this one is definitely a crowd pleaser.
---
Quinoa Chocolate Crunch Bars
With only six ingredients, you can feel good about eating this treat. Make a giant batch and store it in the freezer for emergency dessert cravings.
---
No-Bake Quinoa Energy Bites
Nut-free, gluten-free, and perfectly sweet — you'll love these convenient snacks you can make ahead of time. Play around with the different flavor combinations by switching out seed butters or adding coconut or cinnamon.
The FabFitFun Team