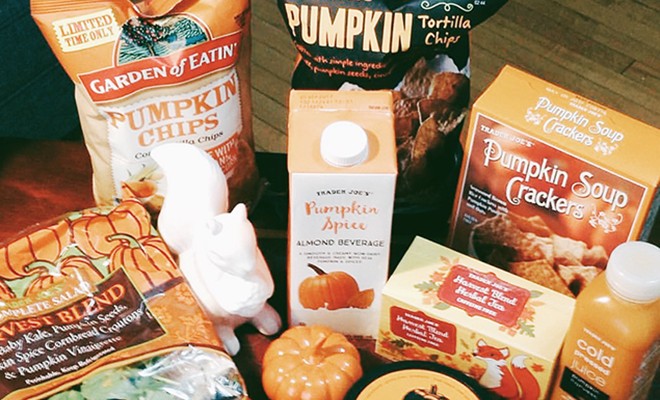 Fall happens only once a year, so we're always willing to try any and all pumpkin related products. Who can blame us, though? Pumpkin is only around for one season (we're looking at you #PSL!) so we need to make the most of it.
Nobody gets our obsession with pumpkin quite like Trader Joe's does. They pump out new pumpkin products each year ranging from the usual like pumpkin bread mix to the crazy inventive pumpkin almond beverage.
Check out the must-tries from TJ's below:
Pumpkin Soup Crackers $1.99
Pumpkin-soup-infused crackers? Only Trader Joe's can get away with a creation like this one. This gluten free box of goodness will be gone before you know it. Get the taste of pumpkin soup with a satisfying crunch!
---
Pumpkin Bread Mix $2.99
Who can resist a warm loaf of seasonal bread? Not us, that's for sure. Get to baking this season with the easiest bread mix around — add in your favorite mix-ins like nuts or chocolate chips for a personalized slice every time.
---
Pumpkin Spice Almond Beverage $1.79
If you're on the almond milk train, you'll definitely want to try this new take! It's creamier than your regular fix but twice as delicious. Try it cold, mixed in with your coffee, or heated on those blustery fall nights.
---
Pumpkin Rolls with Pumpkin Spice Icing $3.99
Upgrade your boring cereal with this pumpkin treat. Think of pumpkin pie mashed with a cinnamon roll, and the seasonal flavors of cinnamon, nutmeg, and clove added. Serve these up with the delicious icing which is made from pumpkin purée.
---
Organic Pumpkin Spice Granola Bark $3.99
This granola bark just might be your new favorite snack. Think fresh-from-the-farm ingredients with the taste of pumpkin and dark chocolate. Don't forget about the maple and sea salt seasoned pumpkin seeds that sit on top of the bark — we definitely didn't.
---
Dark Chocolate Pumpkin Spice Salted Caramels $4.99
Life is like a box of chocolates, except you know you're going to get delicious pumpkin flavor in each of these bites. Give your tastebuds a rush when you try these Dark Belgian chocolates, filled with autumnal spices and sprinkled with Hawaiian red sea salt.
---
Pumpkin Butter $2.29
Stock up on this seasonal treat as it's sure to sell out! This "butter" is easy to spread, tastes amazing on toast, and (best of all) has no eggs or cream aka no fat. This 10-ounce jar might just be your new best friend.
---
Pumpkin Waffles $1.99
At $0.50 a waffle, how could you not pick these up during your next Trader Joe's visit? This easy breakfast is packed with flavor and will keep you full until lunch. Plus, it's perfect for those days when you hit snooze a few extra times.
---
Pumpkin Bread Pudding $3.99
Desserts that require no baking on our part? Sign us up! This bread pudding just needs to be defrosted or warmed in the oven and you have a great autumn treat for guests (or yourself, we aren't judging).
---
Pumpkin Ice Cream $3.99
Make the most of your fall by trying this incredible ice cream. It's made with 20% pumpkin purée, has a blend of warm spice, and tastes good by itself or scooped on top of another treat. It's only around for a few short months, so enjoy it while you can!
---
Pumpkin Spice Chai Tea Latte Mix $3.99
Skip the line at the coffee shop and try this chai tea latte variation. The flavorful drink tastes amazing hot or iced and is ready the second you add water. Find our new favorite drink in the coffee and tea section of any Trader Joe's store.
---
Pumpkin Scone Mix with Maple Flavored Icing $3.69
This recipe is so foolproof that a toddler could make it taste like it came straight from a bakery. You just need to add water and you have yourself a seasonal scone just waiting to be enjoyed with a cup of coffee. Drizzle the icing over for an extra touch of sweetness.
---
Pumpkin Vinaigrette $3.49
Step up your salads with a dressing we thought only existed in our dreams. It's sweet, tangy, and filled with the pumpkin spice tastes you know and love. Grab a bottle (or four) this pumpkin season!
---
Mini Pumpkin Pies $3.99
Want to indulge in a sweet treat without feeling guilty? These mini pies are the perfect treat at the end of the day — the pumpkin pie flavor you craved all year is enclosed by buttery crusts, topped with a sprinkle of sugar.
---
Cold Pressed Pumpkin Harvest Juice $4.49
Add this juice into your diet ASAP. Each bottle contains a smooth serving of pumpkin, carrots, celery, sweet potato, ginger, and a pinch of turmeric. It's hearty, bold, and just what your body was craving.
xx, The FabFitFun Team