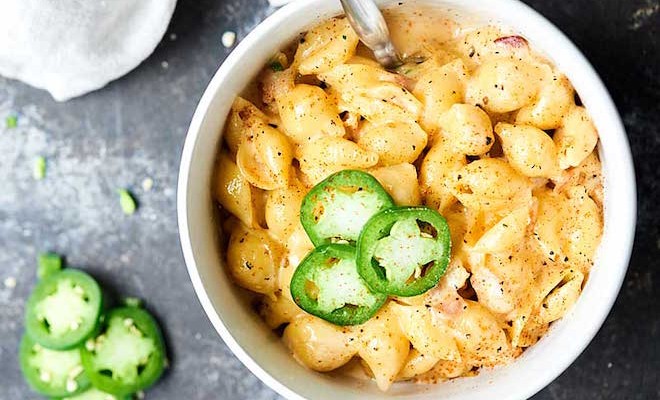 Childhood meals aren't usually at the top of our "favorite meals" list, but mac 'n' cheese is definitely an exception. Who can resist the cheesy goodness that comes from a box?
Well, give your favorite meal an upgrade with these delicious variations. They range from vegan to bacon filled and contain extra cheese in every bite. Make your next meal your best meal with the best mac 'n cheese recipes ever.
Sun Dried Tomato, Kale, and Quinoa Mac 'n' Cheese
Get an extra dose of veggies in this healthy take on the classic mac 'n' cheese. It's cheesy, full of flavor, and will fill you up in just one serving. Delish!
---
Tortellini Mac and Cheese
Ditch your boring pasta and make your mac 'n' cheese mouthwatering with a tortellini twist. The bread crumbs on top are the perfect touch to an already incredible dish.
---
No-Boil Mac and Cheese
Screw boiling the pasta ahead of time — try this recipe which calls for baking uncooked pasta and cheese sauce for 30 minutes. You're left with a dinner worth watching the timer for!
---
Crock Pot Bacon Mac and Cheese
Cheese and bacon are the two of the best ingredients on earth. Why not throw them together in a creamy pasta that your whole family will devour? Make this the next time you're looking for an easy and hot meal.
---
Butternut Mac-n-Cheese
Dive right into fall with this squash-filled mac 'n' cheese creation. The butternut squash adds unexpected sweetness and warmth to the dish — perfect for a chilly Autumn night.
---
Garlic Mac 'n' Cheese
This recipe will be your new go-to: It's vegan, super creamy, and infused with fun flavors. Each bite has a little kick to it, keeping your taste buds on their toes. Make it tonight with your favorite salad on the side.
---
Spinach Artichoke Dip Mac 'n' Cheese
Is spinach-artichoke dip your go to appetizer? Well, combine forces with your favorite entrée and enjoy this new take on the classic mac 'n' cheese. It's cheesy enough for even the biggest cheese lover, with extra flavor throughout the dish.
---
Jalapeno Popper Mac and Cheese
What else could you need in a dish besides bacon, cheese, and spice? This variation is sure to set your tongue on fire from the incredible flavor. Not only is it easy to make, but it also requires only one pot! #winning
xx, The FabFitFun Team