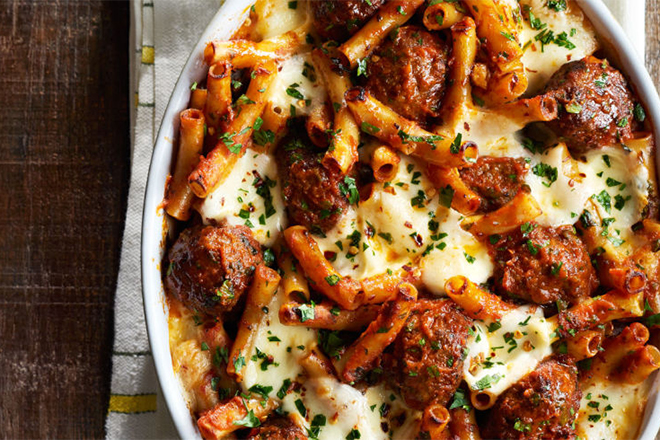 The last thing anyone wants to do after a long day at work is cook. It takes too much energy which, frankly, you don't have enough of and ordering food can really put a strain on your wallet.
Our solution? Making meals that are large enough to last you the week and still keep you interested (even on Friday). Here are some of our faves that you can easily reheat for dinner or take to work with you for a hearty lunch. Bon appetit!
Ramen Noodle Bowl with Escarole and Spicy Tofu Crumbles
Not only will this dish last you all week, but you'll actually want to eat it! An hour of prep time will get you a savory and satisfying meal which you can eat for dinner with a nice glass of wine or bring to work and make your desk buddies jealous.
---
Potato, White Bean & Kale Vegan Soup
A pot of this soup will satisfy you and your family all week long. It's vegan, flavorful, and has a variety of textures, so your palate won't get bored. Our favorite part? The garlic rosemary crostinis — they add the perfect crunch to every bowl.
---
Turkey Taco Chili
We've never met a chili we didn't like and this version is no exception. This recipe is super easy to make and provides ample amounts for anyone to enjoy. Switch up how you serve it every night whether it's over macaroni or with tortillas. You'll basically have a "new" meal each night.
---
Big Batch Oatmeal
We found our new Sunday night routine! Make a large batch of oatmeal, divide it into mason jars, and you have yourself a portable, healthy way to start your day. Change up your mix-ins each morning for a different take on the traditional meal.
---
Meatball and Spinach Baked Ziti
Looking for a hearty dinner that everyone in your family will enjoy? This baked ziti will be requested again and again, as it's delicious, flavorful, and satisfying. Even the pickiest eater will want this cheesy, meaty dish.
---
BLT Chopped Salad with Corn, Feta, and Avocado
Yep, this is a salad worth getting excited! A variety of flavors greet you every time you eat this deliciously, textured recipe. Make a big batch and divide it for an easy lunch or dinner — add the dressing in later, as you don't want the lettuce to get soggy.
---
Quinoa Black Bean Burrito Bowls
Just like tongue twisters, this delish recipe never fails to get old. Make a huge batch of quinoa and beans, then add in your select ingredients. Make it as spicy or as plain as you wish for however you're feeling that day!
---
Oatmeal Blueberry Applesauce Muffins with Walnut Oat Streusel
Need a super quick breakfast for when you're inevitably racing out the door? Make a batch of these delicious muffins and you're prepped for the week! Each muffin is only 172 calories, contains a punch of protein, and is sure to fill you up until lunch. Yum!
xx, The FabFitFun Team