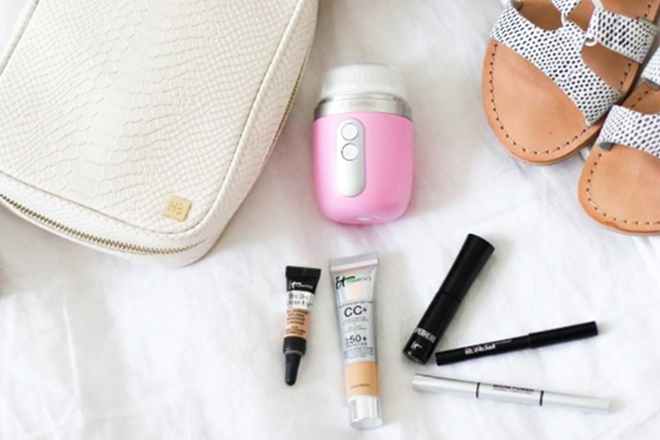 @ambiance_spa
Everything we do these days revolves around technology from our high-tech phones to the way we read our books on screens and how we order clothes online. Let's face it — our world is pretty much obsessed with anything tech because it's so functional and convenient.
And another area where you should be investing in tech? Your beauty routine. There are quite a few products on the market that take place of high price spa treatments, pamper your skin in new ways, and, what's even better, you can use these products right at home! While some of the below products carry a hefty price tag, it'll be worth every penny once you see the results for yourself.
SkinCeuticals Age-Defying Laser + Antioxidant System $629
Facials leave our skin feeling fabulous, but we definitely can't afford to get them daily. Well, thanks to this kit you can minimize wrinkles and improve your skin's overall texture. The combination of the Tria Age-Defying Laser with SkinCeuticals C E Ferulic and Resveratrol B E antioxidant regimens, your skin will stay youthful and radiant in between spa days.
---
LumaRX Detail Trimmer $19
Stubborn areas like your upper lip and bikini area can be tough to maintain. The areas are sensitive but we still want them to be hair free! Luckily, this tiny little trimmer allows you to tame even the toughest areas anytime you need to. Also, the gentle blades don't normally cause irritation so it's easy to use on-the-go.
---
Clarisonic Mia Fit $219
We're obsessed with cleansing brushes and feel like they've been such a game changer for our skin. Clarisonic has recently introduced a new version of the brush we love, the Mia Fit. The brush is compact, travel-friendly, and effectively cleanses even the most sensitive skin. This palm-sized gadget gently removes everyday impurities, sunscreen and makeup for smooth, radiant skin that feels as good as it looks.
---
Illuminate Skin Rejuvenating Gloves $45
Dry, wrinkled hands are one of the easiest ways to show your age. Since your hands are exposed to the sun, in water, and used constantly, signs of aging can become very apparent. These high tech, copper infused gloves will help improve your hand's skin tone and texture in just four weeks. Wear them around the house or to bed and give your hands a little TLC.
---
S.Heart.S Scalp Brush $109
You know how amazing it feels when you get your hair washed at the salon? This brush will give you that feeling every single day — not to mention it'll leave you with a seriously clean scalp. Simply running your hair through shampoo isn't enough…you really need to work it in to see the benefits. The bristles remove debris, buildup, and even cleans out pores so your shampoo can do its duty like never before.
---
Quip Electric Toothbrush $45
Electric toothbrushes are the best but they can take up too much counter space. Luckily, this brush is a seamless design that not only comes in chic colors but it also takes up little space. You don't have to worry about a bulky charging station thanks to battery operation over a plug.
---
Tria Hair Removal Laser 4X $382
Tired of shelling out tons of money for laser hair removal? Now you can do it at home for much less dough. Even if you're new to in home treatments, this one is painless and basically foolproof. This product works best on lighter skin tones with dark hair. The product even includes a built-in skin sensor to make sure your skin fits the bill.
---
JeNu Ultrasonic Infuser $249
This infuser has the stamp of approval from Vogue so if that doesn't convince you, we don't know what will! It harnesses the power of ultrasound energy and a special gel to maximize skin care product absorption which will help your pricey skin products work better and faster.
xx, The FabFitFun Team