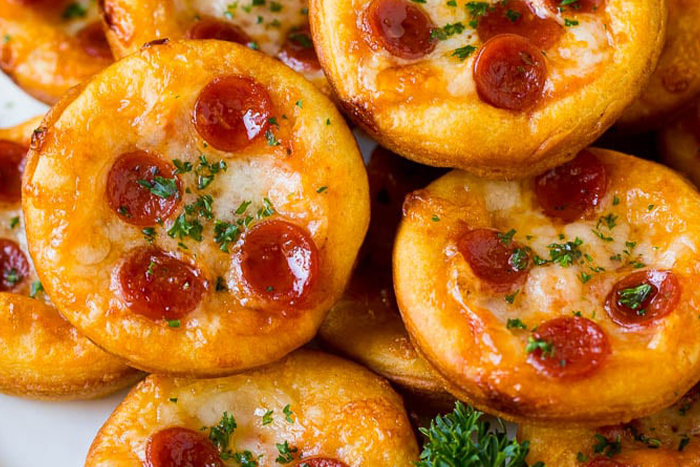 Feature Image by Dinner at the Zoo
Pizza is an obvious essential in life, but it's not always the easiest meal to make at home. Instead of popping a frozen pizza in the microwave, let us make a case for a new treat you need on your radar: DIY pizza bites.
Most pizza bite recipes are super easy to make, and the finished result will make you feel accomplished (even if they took just 15 minutes from start to finish). Plus, there's a flood of blogger-approved pizza bite recipes out there to satisfy every type of dietary lifestyle. That includes low-carb, keto, and gluten-free eaters.
Keep scrolling to check out the top eight recipes that we're obsessed with, including bell pepper pizza bites to challenge your traditional idea of the Italian dish and wonton-shaped ones that practically double as a work of art.
Microwaving a bag of pizza rolls is joyful, but so is creating the homemade version from scratch. They'll take a little more time to prepare, but the finished result is worthy of being on a restaurant menu.
---
This recipe is touted as the perfect "kid-friendly" recipe, and it's obviously adult-friendly, too.
---
These zucchini pizza bites can be yours in under 30 minutes. Plus, you only need five ingredients to tackle the low-carb recipe.
---
Don't worry — we didn't forget about all you gluten-free eaters! To create these addictive pizza bites, the brains behind the recipe got creative with gluten-free white bread and a mini muffin tin. You're looking at the epic result.
---
The crust of these mini pizza bites is made with crescent roll dough. Need we say any more?
---
Pizza doesn't always need to look like the traditional thing to taste delicious. Case in point: these genius bell pepper pizzas that take just 15 minutes from start to finish.
---
We don't know about you, but the crispiness of these wonton pizza bites has us ready to get the ingredients delivered to our house, stat. They look like a work of art, but they're super easy to make.
---
Alright, these are a little bit bigger than what you might think of when you hear "bite-size," but there are worse things, right? Serve these pizza rolls with warm pizza sauce for dipping. Be warned: They will likely disappear from the platter quickly.
xx, The FabFitFun Team