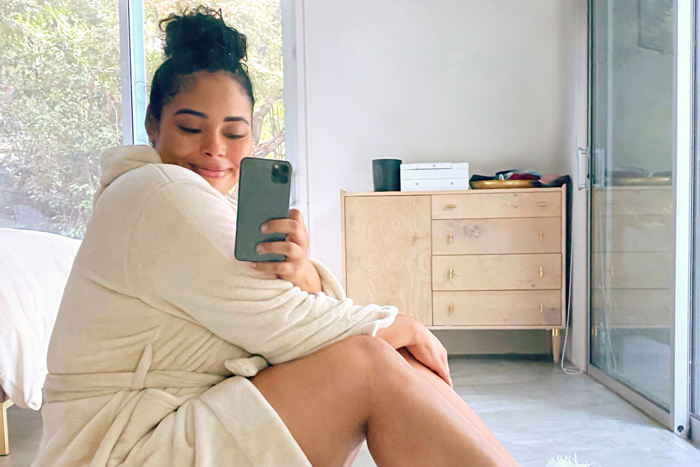 While having some sort of self-care ritual is always a good idea, there's no better time to incorporate one than now. Given the state of the world, and the stress and anxiety that most people are feeling on a daily basis, it's important for your overall well-being to step away from social media, the news, and work to take care of yourself. That's why we created a self-care checklist featuring seven things you can do to treat yourself ASAP.
1. Cook a new recipe
Taking the time to prepare yourself a nice meal is the ultimate form of self-care yet something many of us don't often have time to do. So put a one-hour block on your calendar and reserve it for trying out new recipes. It'll help take your mind off the day and add another skill to your arsenal.
Product Recommendation: eparé® Cutting Board (Set of 4)
2. Do a hair mask
More than the end result of soft locks, it's the act of taking care of your physical body that translates into a refreshed mental state. Plus, your hair deserves as much attention as you give your skin. Apply a hair mask and let it sit while you relax on the sofa for 20 minutes or so before rinsing it out.
Product Recommendation: Voir Haircare Rhythm of the Rain – Hair Masque & Scalp Detox
3. Give yourself a face massage
From staring at the computer screen all day to the tension you might be holding in your jaw, a facial massage is just the treat your face is craving. Facial massages can increase circulation, ease tension, and improve the overall look of your skin. You can do it with your fingers or use a tool, like a jade roller or gua sha stone, along with an oil for a luxurious experience. Take the TLC an extra step further and give your lips a good exfoliation as well.
Product Recommendation: LOLI™ Tea Seed Elixir and Whish® Lip Scrub in Vanilla Bean
4. Read one chapter of a book
Put on something comfortable, snuggle up on the sofa or your favorite chair, and crack open a book. Reading is the perfect escape and a nice break from technology. Better yet, join the FabFitFun Book Club, and dive into a book with fellow reading enthusiasts and our co-founder, Katie.
Product Recommendation: Summer & Rose Cozy Robe
5. Indulge in an at-home mani
We don't know what it is about manicures, but they sure do spark joy! With the right tools, it's easy to get a salon-quality manicure at home. Start with a clear strengthening treatment that can double as a base coat, then follow with your favorite color, or leave them natural.
Product Recommendation: Londontown® Get Well Nail Recovery
6. Meditate for five minutes
Meditation and mindfulness are great practices to incorporate into your daily routine in order to boost your mood and make you an overall happier person. Start small, like five minutes a day. If you don't know where to begin, you can check out FabFitFunTV for helpful guided meditations. Find a quiet place where you won't be disturbed, and make sure you're comfortable and warm.
Product Recommendation: MUK LUKS® Cabin Socks
7. Put on makeup
Whether you put on a statement red lip or just a swipe of mascara, wearing makeup can be an instant confidence booster. Set aside 20 minutes of your morning to do your favorite makeup look — it'll make all the difference!
Product Recommendation: Impressions Vanity Company® LED Vanity Mirror
xx, The FabFitFun Team
P.S. Print out the checklist below and pin it up on your wall to remind yourself to practice some "me" time!
Psst! Have you signed up for FabFitFun yet? Don't miss out on $200+ in amazing beauty, fitness, fashion, and lifestyle products, access to exclusive fitness and cooking content on FabFitFunTV, members-only sales, and more. Use code SHIMMER at checkout for 20% off your first box.
To get the most out of your box products, make sure to check out the Insider page.