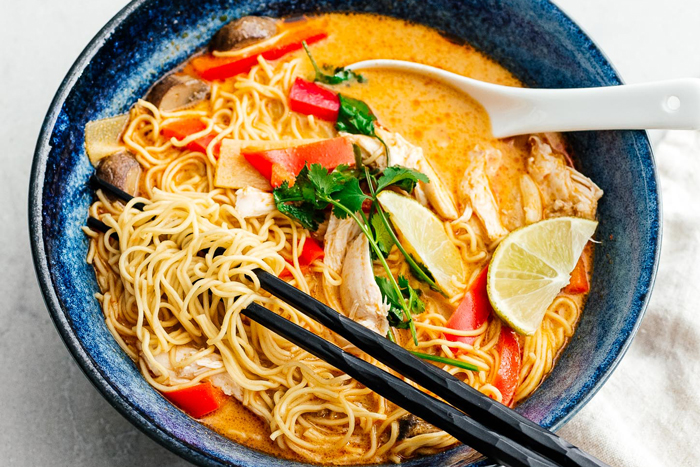 Feature Image by iamafoodblog.com
What's more comforting on a chilly fall day than a warm, steaming bowl of flavor-packed ramen? Yep, that's right. The cold weather is finally making its debut and we can't wait to update our weekly dinner menus with warm, comforting classics that won't disappoint.
While you might typically lean towards dining at local restaurants to get your ramen fix, the truth is you can make your very own customized bowl at home. And there are even recipes that can be made in 15 minutes or less. Intrigued? So were we.
Ahead, we found 10 easy-to-follow ramen recipes that will keep you warm all season long.
This shortcut recipe doesn't require a huge time investment, but the end product tastes like restaurant quality. From protein-rich tofu to a miso-infused broth, you'll love every bite of this spicy ramen.
---
Chinese char siu is a popular pork dish that's the perfect balance of tangy, sweet, and spicy. Even when we thought the meat alone was delectable enough, putting this flavor-rich pork atop a bowl of rich broth and noodles is top-notch.
---
Ramen doesn't have to be topped with meat to be delicious. This vegan recipe is a blend of flavorful curry broth with soft, plump noodles and it's oh-so-good.
---
This ramen is the definition of umami. There's so much flavor between the garlic, ginger, soy sauce, and gochujang, and every bite is more exciting than the next.
---
When you want a warm, comforting bowl of ramen on a weeknight, but you're in a pinch for time, try this Thai red curry rendition. It's pulled together in 15 minutes and it doesn't skimp on flavor.
---
Take advantage of seasonal product with this pork ramen made with roasted acorn squash. Plus, it's a crockpot meal so you don't have to worry about standing over a stove for hours.
---
Is there anything more delicious than spicy sriracha, succulent shrimp, and warm, soupy broth? Our point exactly.
---
It's officially pumpkin season, so why not try adding it a piping hot bowl of ramen? There's pumpkin in the broth and a roasted version used as a topping.
---
If you're looking for ramen minus the broth, try this Mongolian-inspired beef dish. It's even kid-friendly!
---
Calling all kimchi lovers! This recipe is full of kimchi flavor and it only takes 15 minutes to whip up.