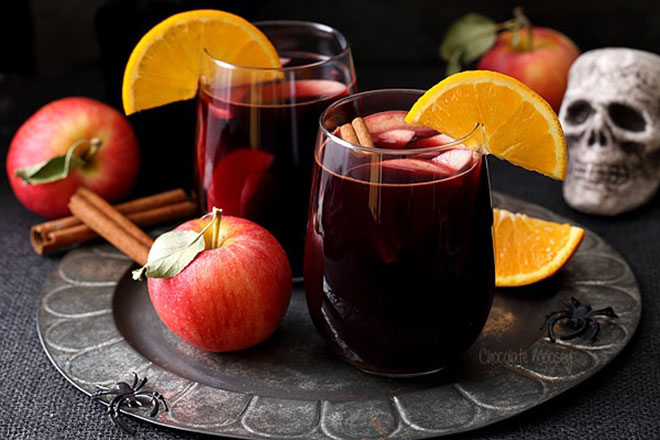 Feature Image by chocolatemoosey.com
With Halloween only weeks away, we're stepping up our cocktail game with some spooky drinks (not only are they festive, they're also quite the little treat).
Check out our top recipes that range from a grown-up milkshake to a spectacular zombie-inspired punch.
Classic Blood Orange Margarita
You don't have to wait until Halloween to indulge in this tasty margarita. Shake one up a few weeks early and sip on the sweet yet tart goodness this drink has to offer.
---
Witches' Brew Halloween Cocktail
The sweet and fruity taste of Malibu rum isn't what you'd normally expect from a drink with this name, but we're not complaining. Mix this batch up for your Halloween party — the cauldron will be empty in a matter of minutes.
---
Grown Up Pumpkin Pie Milkshake
Skip the Halloween candy and go straight for this delicious milkshake. The bourbon adds a nice adults-only kick while the sprinkles take us back to the good ol' days.
---
Zombie Punch
You'll be a proclaimed cocktail master after your friends give this punch a try. The flavors of fall are as present as ever in this festive drink. Serve in fun glassware to really play into the holiday.
---
Polyjuice Potion
Calling all Harry Potter fans! Whip up this tasty drink, which is based on the potion Harry and his friends used throughout the entire series (don't worry, you don't have to add hair to it!).
---
Candy Corn Cocktail
While you might've outgrown your affection towards the tri-color candy, this beverage will take you straight down memory lane. You can prep this recipe ahead of time and combine all of the ingredients when you're ready to serve.
---
Halloween Dark Red Apple Cider Sangria
Break out your favorite bottle of Cabernet Sauvignon or Merlot for this tasty sangria recipe that puts all the others to shame. This mixture has just the right amount of autumn flavor without losing the taste of your delicious red wine.
---
Smoking Blackberry Sage Margarita
If you're in the fruity mood this Halloween, this margarita will hit the spot. Add dry ice if you're feeling extra spooky…cheers!
---
Vampire Cocktail
This definitely isn't the prettiest drink of the group, but who doesn't love a good theme? Inject your drink with sweetened raspberry purée for a gory yet delicious touch.
---
Beetlejuice Cocktail
Spark some nostalgia with this drink based on the classic film. The vodka cocktail is filled with fruity liqueurs and the contrasting colors mimic the cult classic perfectly. Add a black and white striped straw for the finishing touch.
xx, The FabFitFun Team