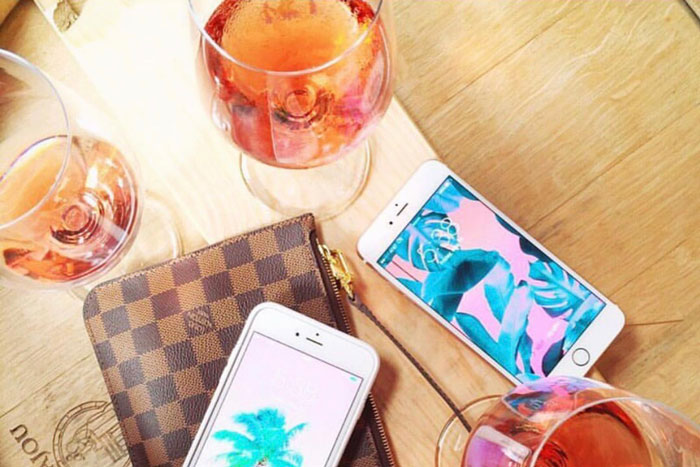 Feature Image by @caybabe
Sip, sip, hurray! It's National Wine Day, which means happy hour and bottomless wine (in every color). Not sure which bottle to uncork? Let the stars be your sommelier.
Aries (March 21 to April 19)
As a leader of the zodiac, you need a wine that's as original as you are. A glass of orange wine will satisfy your unstoppable force and eagerness to try new things. Orange wine is the rosé of white wine and features a rich tannic body and a pretty copper color.
Taurus (April 20 to May 20)
Indulge your affinity for the finer things in life with a bottle of aged Bordeaux. It's both reliable and luxurious, making it a sure choice for a sign with such great taste.
Gemini (May 21 to June 20)
Ah, the Twins — while you're the most social, you can also be serious and contemplative, so your idea of a good night probably consists of staying in with your closest girlfriends. Throw in a refreshing bottle of pinot grigio to accompany your late night talks.
Cancer (June 21 to July 22)
Some call the Crab shy or reserved, but you know that all it takes is a little time for you to come out of your shell — just like a zinfandel wine! Similar to you, the wine takes time for it to reach its best possible flavor.
Leo (July 23 to August 22)
Pop the champagne, Leo has arrived! As the boldest and flamboyant sign of the zodiac, you need a wine that shines like you, and nothing says extravagance quite like a bottle of bubbly. Cheers!
Virgo (August 23 to September 22)
Virgo pays careful attention to detail and loves things to be sophisticated and pure. You're a practical sign, which makes a glass of rich, refined Chardonnay perfect for your steady personality.
Libra (September 23 to October 22)
The most charming sign of them all, you seek balance and beauty in everything you do. Your charismatic personality makes you loved and adored by all, much like a bottle of delicious pinot noir. This light to medium-bodied wine is very drinkable and pairs with just about anything (and anyone!).
Scorpio (October 23 to November 21)
Passionate and fiery — you need a wine that complements your bold personality. A glass of Syrah is full-bodied, rich, and has a punch of spicy flavor that's unexpected yet welcomed.
Sagittarius (November 22 to December 21)
Your adventurous nature is constantly taking you to new places, so who knows where you'll be next? Stick with a classic, like a crisp sauvignon blanc — it's bright, earthy, and great year-round.
Capricorn (December 22 to January 19)
As a Capricorn would say, "You can't beat a classic!" You're a lover of all things traditional and timeless, so a glass of cabernet sauvignon is your perfect pour. You're a hardworking gal, and a glass of cab after a long day at the office is a treat that can't be beat.
Aquarius (January 20 to February 18)
Aquarians are always eager to try something offbeat and unique. Instead of ordering a classic bottle of wine, opt for a pitcher of Spanish sangria. The blend of fruits and punchy Rioja wine suits your eclectic taste and it's the perfect drink to share with friends.
Pisces (February 19 to March 20)
Pisces is the imaginative daydreamer of the zodiac, so a glass of rosé champagne is right up your alley. It's bubbly, vibrant, and likable (just like you!).
xx, The FabFitFun Team