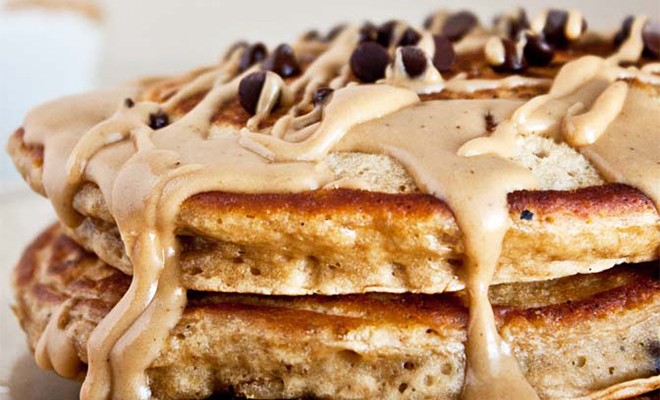 Pancakes are pretty much the best dish you could ever have for breakfast.
In fact, this classic morning meal is so amazing that there's an entire day devoted to it. Yep, September 26 is National Pancake Day, and since you basically have to honor this prestigious holiday, we've taken the liberty to find some of the yummiest recipes around.
Heat up that griddle and start cooking those stacks on stacks of delicious, fluffy pancakes!
Apple Cinnamon Pancakes
This is your one and only chance to essentially eat pie for breakfast. Warm apples are drenched in a sugary sweet glaze and then piled on top of cinnamon spiced pancakes. Um, we're so making this!
---
Nutella Stuffed Pancakes
The only thing better than a regular pancake? A Nutella stuffed pancake! Create round discs of Nutella on parchment paper and then pop it in the freezer. That way, you'll be able to place the Nutella circles in between layers of pancake batter. How easy and mess-free is this recipe?
---
Banana Bread Pancakes
This recipe is b-a-n-a-n-a-s. It'll make you completely re-imagine banana bread. Mash some bananas, add brown sugar, throw it on the skillet, and top with walnuts. Mm, mm, mm. Now, that's how you eat a banana!
---
Pumpkin Pancakes
Pumpkin pancakes and PSLs go hand in hand, so we've found what you're going to have for breakfast all fall long. Bon appetit!
---
Gingerbread Pancakes
If you're anything like us, the first taste of fall leaves us craving Christmas. So, while everyone else is stocking up on pumpkin, we're more in the mood for gingerbread cookies. And now we've found a way to get our nutmeg fix over breakfast!
---
Cinnamon Roll Pancakes
Reinvent the way you have cinnamon rolls just in time for National Pancake Day — cream cheese glaze and all! This recipe is basically a flattened cinnamon roll, but we're not complaining.
---
Brown Butter Pecan Pancakes
Who doesn't love a slice of pecan pie? Well, this is basically that except it's in pancake form. Brown sugar and pecans are packed into the batter, and then even more pecans are added on top. We have a feeling you won't be able to get enough of this recipe.
---
Irish Pancakes
Love pancakes? Then give this recipe a try because it makes pancakes thicker than usual, and (TBH) that sounds pretty amazing. The first meal of the day is the most important, after all. Might as well make it count with thick stacks!
---
Espresso Chip Pancakes
Instant espresso powder and chocolate chips are slammed into this batter. As if that wasn't enough, coffee is packed into the glaze, too. Add that to your morning cup of coffee, and well, let's just say you'll have plenty of energy to take on the day!
xx, The FabFitFun Team