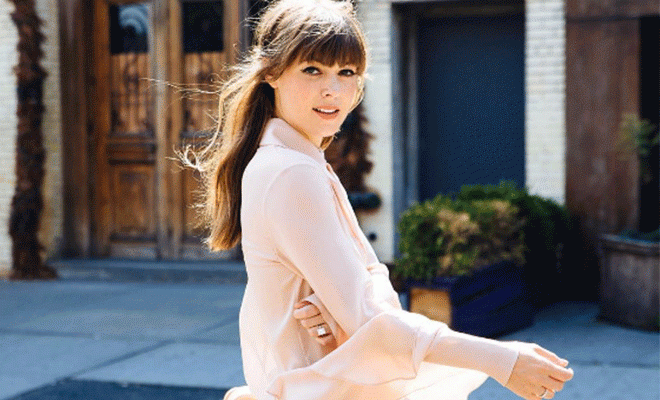 @colemoser
Fall is upon us and we couldn't be more excited! Sweaters, pumpkin flavored everything, damaged hair…wait. Our hair is pretty much toast after a summer of swimming, surfing, and sunning. So just like your wardrobe changes from season to season, you should switch up your haircare routine.
We turned to tried and true celeb hair stylist, Tommy Buckett, (his styling has been seen on the likes of Rachel McAdams, Ashley Olsen, and Sienna Miller to name a few) to share his insider tips on transitioning our locks from summer to fall.
Where to Start
Tommy advises that "seeing your hairdresser to trim up dry ends and re-shape your hair is a good start." After all, you can't really mend damaged hair if it keeps breaking from split ends. Get a quick clean up before you start using any other products!
Products We Need
Per Tommy we "need to get a new shampoo and conditioner" or a product that will rebuild our hair from the salt water and sun damage. Tommy suggests Garnier's Damage Eraser for some TLC. He also suggests using a heat protection product "because you're using heat styling tools more, and blowdrying and more curling can ruin the hair." We like to use this lightweight serum to protect against the heat.
How Not to Wear Your Hair
Summer is perfect for trotting out of the house with just washed hair. You can toss it up in a big bun or let it dry au natural. However, this shouldn't be your go-to option in the colder months. Tommy notes walking out with a head full of wet hair can encourage breakage. It's better to wear day old, dry hair in a top knot and save the shower for a day you can actually give yourself a blowout.
Snip, Snip!
New season, new start! A fresh cut will help you transition not only your locks but your overall style. Been wearing your hair long all summer? Tommy suggests chopping it into a pixie cut or opt for bangs. On the shorter side? Allow your hair to grow out and incorporate some loose curls to keep things fun and fresh.
xx, The FabFitFun Team