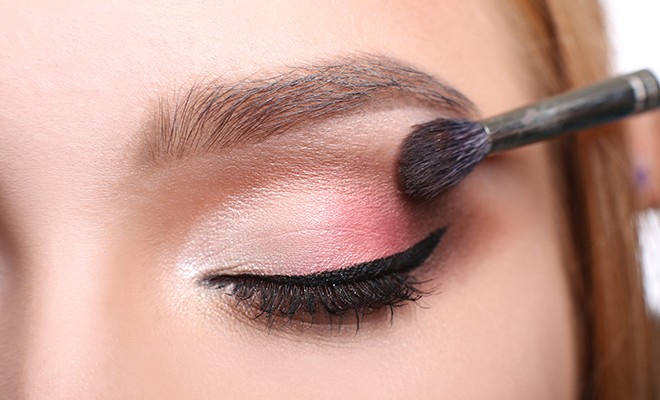 Bold, bright colors scream summer so why not add a bit to your eyes? A pop of color on your lids might seem a little daunting at first, especially if it isn't something you do on the daily, but take our word for it — you'll want to rock bold eyeshadows all summer long.
Ease your way into this statement-making beauty trend by following these tips:
1. Choose one color. If you're hesitant to rock a full-on rainbow look, you can transition into this trend by starting with one bold color to slap on your lid. You can wear the shade on its own or build the look from there.
2. Stay in your comfort zone. Choosing the right color is key. If you don't typically wear a lot of blues and greens, then don't choose those colors unless you're willing to take that risk. The bottom line is, you do you!
3. Start with a liner. If it's your first time wearing bright eye makeup, it might be a good idea to start with a colorful liner instead. You can either go for a colorful cat eye or use the bright hue along your waterline. Whatever you decide, this technique is the perfect way to ease into this trend.
4. Test it out first. This isn't one of those looks you want to try if you need to be out the door in 10 minutes. Give yourself time to practice beforehand and maybe even watch a few YouTube tutorials (we're loving this one from NikkieTutorials!) to make sure you've got the technique down before you put a brush to your lid.
5. Blend, blend, blend. When working with any eyeshadow, blending is crucial. Don't get discouraged if you apply a color that seems too bright — you can always blur it out with a blending brush.
6. Start light and build. Remember that a little goes a long way. Always start with a small amount of color and build it up if it's not bright enough for you. It's a lot easier to add color than it is to take it away.
7. Pair it with minimal makeup. Balance out the bold hues on your eyes with minimal makeup on the rest of your face. This will ensure that your eyes really pop and get the spotlight they deserve.
8. Own it. Above all else, carry yourself with confidence. You look great, so don't let this extra bit of color intimidate you. Instead, let it bring out your inner fierceness because you so got this.
xx, The FabFitFun Team