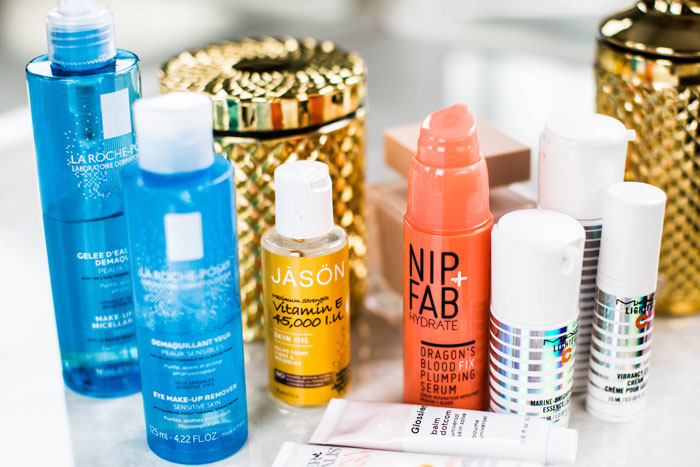 Feature Image by Charisse Kenion
We're always careful about what we put on our skin, but exactly how much of each product are you supposed to apply? While slathering on a thick salve might help you feel more moisturized, it can actually be wasteful and not help your skin reap all the benefits that it should.
Not sure how many pumps to apply or whether you need a dime-sized or pea-sized amount? We break down how much of your favorite skin care products you should be using below.
Cleanser
The amount of cleanser you should be using depends on the type of cleanser you have. For example, foam cleansers have surfactants, which can dry out the skin, so you don't want to use any more than a pea-sized amount. However, you can use a quarter-sized amount if you have a cream cleanser because it isn't as drying. For a deep cleanse, we recommend the La Roche Posay Medicated Gel Cleanser. It's formulated with micro-exfoliating lipo hydroxy acid to target oily areas on the skin's surface while gently removing debris and dirt.
Eye Cream
Gently apply a pine nut-sized amount of eye cream per eye. The skin around your eyes is very thin and delicate, so use your fourth finger and apply it from the inner brow all the way around the eye in a c-shape. The Belif Moisturizing Eye Bomb uses moisturizing herbs to prevent dark circles for 26 hours.
Face Serum
From tackling discoloration to preventing wrinkles, face serums do it all. Thanks to its fluid formulas and a potent concentration of active ingredients, you don't need a lot to reap the benefits. The size of one coffee bean is enough to treat your entire face. Our go-to is SkinCeuticals Discoloration Defense as it boasts a cocktail of active ingredients to reduce stubborn pigmentation.
Mask
Depending on the formula of the mask, the amount can vary, but in general, you should apply an even layer all over — think about the size of an ice cube! The newest addition to our arsenal is Bliss Mighty Marshmallow Bright & Radiant Whipped Mask, which uses vitamin C and olive leaf extra to visibly smooth out uneven, lackluster skin.
Moisturizer
Formulas with sunscreen shouldn't be skimped on, so we recommend putting on enough daytime moisturizer to cover the entire face (including near the hairline, ears, and neck), which typically equals about the size of one and a half quarters. At night, you can reduce it to the size of a nickel. We tend to reach for the Pili Ani Intense Hydrating Facial Cream when we need to hydrate, nourish, and repair our skin.
xx, The FabFitFun Team