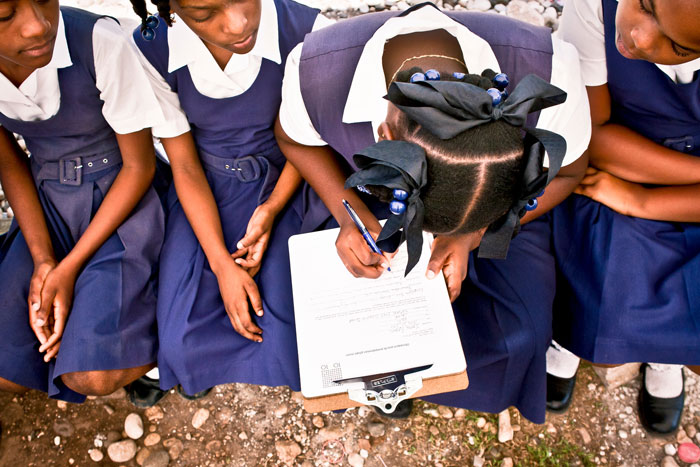 Girl Rising, a global campaign for girls' education and empowerment, is inspiring people from all nations to take action for girls! Whether it's hosting an event, providing resources or forging partnerships, each individual action strengthens the global movement.
We believe strongly that individual actions have the power to transform lives and ensure girls get the education they deserve. Not sure where to start? Here are a few ways you can support Girl Rising right now.
Speak up on social
It may seem like it can't make a difference, but it does! Follow Girl Rising or another girl-related cause or role model. Reshare their posts to keep the message going and tell others to follow the accounts too. You can also share your own story of education and empowerment. For example, the #MyGirlRising campaign invited social media users to share the story of a girl or woman that inspires them. P.S. Share a photo of the FabFitFun Spring Box to show your support for Girl Rising.
Start a conversation
Keep education and empowerment as part of your day-to-day conversations. Talk to others about the challenges girls face at home and abroad. Refuse to be silent if someone says something degrading towards girls and women or needs reminding about the importance of education. Acknowledge those already taking action. For example, Megan, a high school student from Ohio, started a conscious conversations breakfast series with her classmates. This made it easier to discuss complex social issue topics such as girls' education. They watched clips of the Girl Rising film and discussed conditions for girls around the world in an environment that was both relaxed and fun.
Fundraise and contribute
Organize a fundraiser or event, host a bake sale, plan a Girl Rising screening, or host a walkathon. Think of creative ways to bring people together to celebrate the power of education. Also, donations (no matter how small) make an enormous difference. For example, Davinia, a former pre-school teacher, held a penny drive with her students and school, collecting over 700,000 pennies to donate to Girl Rising.
Mentor others
Ensure women from a variety of fields and backgrounds are equally represented on panels and events. Organize workshops, speaker series, mentoring and networking opportunities in your workplace, school or community celebrating women's accomplishments as well as the people that support them such as men and boys. For example, Delphine, in Cameroon, wants to ensure that girls understand that their stories have value. Using Girl Rising as a prompt, she launched a storytelling competition around the issue of girls' education.
Keep learning
Update your reading list with books and publications about the importance of girls' education or female empowerment. Ask your favorite bookstore or local library to feature books about girls' education on International Day of the Girl, World Literacy Day or International Multi-Cultural Children's Book Day. For example, Beth, a librarian, started a girls' empowerment book club with eighth-graders. They were initially shy when it came to discussing the challenges girls face around the world, but they now feel confident in their abilities to advocate.
xx, Girl Rising