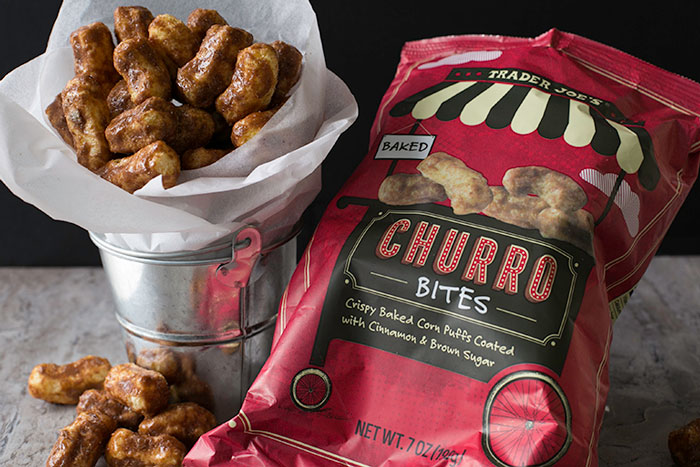 Feature Image by Trader Joe's
What's not to love about Trader Joe's? The grocery store has an amazing selection of affordable, healthy bites and unique snacks. Plus, the frozen meals sometimes (or most times) taste better than takeout.
The best part? Trader Joe's is always pumping out new products, and we listed the ones worth adding to your shopping list. Schedule a trip to Trader Joe's ASAP!
There's chocolate milk, and then there's this: a delicious vegan, dairy-free, soy-free, and carrageenan-free version of your favorite childhood beverage. Serve hot or cold, or use it to replace the liquid in your favorite pancake recipe for a sweet chocolate kick.
---
Hop aboard the sweet beverage train — our next stop is this rich and creamy cocoa mix. Each caramel-filled sip is like a trip to a cozy ski lodge (just imagine a traditional hot cocoa mix with notes of sweet caramel!).
---
Anyone who has ever walked down the snack aisle at Trader Joe's is well-versed in the art of self-restraint. With so many snacks to choose from, we're adding one more to the list. These Bamba Peanut Snacks resemble little puffs with a light, crunchy peanut flavor.
---
It's hard to believe there's no coffee in this cake. Not only does it burst with flavor, but it's also perfectly crumbly — just the way every coffee cake should be.
---
After the success of their first slaw kit (Broccoli and Kale Slaw), it only made sense this one hit the shelves this month. It's filled with a blend of shredded rainbow carrots, broccoli stalks, green cabbage, kale, pepitas, chopped sun-dried apricots, and a creamy tahini orange dressing.
---
This isn't just your ordinary pasta sauce. It's infused with one of Italy's finest wines for a rich flavor that just can't be beat. Whether you use it in a lasagna, chicken parmigiana, or as a dipping sauce, this may very well become the only pasta sauce on your shopping list.
---
Trader Joe's updated their green curry sauce — and let's just say we think the recipe has finally been perfected. It starts with a coconut milk base and spicy green curry paste, which is infused with shallots, lemongrass, garlic, galangal, coriander seed, Thai lime peel, ginger, turmeric, and cumin.
---
The bites are just as good as the name suggests. The golden nuggets have all the flavors of a traditional churro — but in bite-sized puffs. Yum!
---
We love french fries as much as the next person, but there's only so many we can down before our skin starts breaking out or we run out of ketchup (whichever comes first). Enter Spud Crunchies: fun to say, even more fun to eat — and a great alternative to its greasy fast food counterpart.
---
These little guys are chock-full of nutritious and tasty ingredients including black sesame seeds, flax seeds, chia seeds, white corn, and beet powder. Pair it with your favorite dip or pico de gallo for a late afternoon snack.
xx, The FabFitFun Team