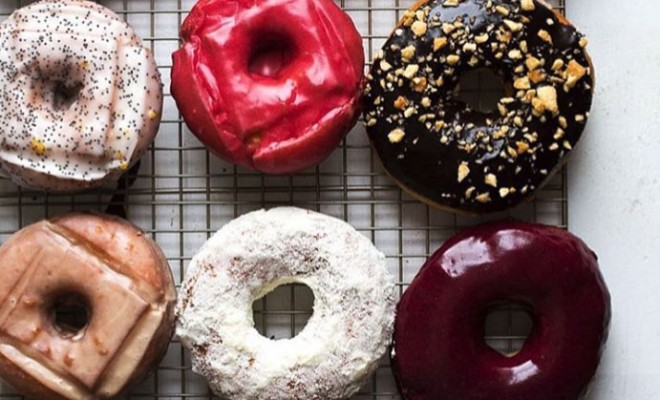 @bluestardonuts
There's a national day for just about everything these days, but one that we're not complaining about is National Doughnut Day (June 2).
To celebrate, we've listed the 10 best doughnut shops across the U.S. From a 77-year-old original bake shop to the newbies on the block challenging the creativity and flavors of the doughnut game, these are sure to satisfy every sweet tooth. Hmm…doughnut tasting road trip, anyone?
Blue Star Donuts (Venice, CA)
From the Pacific Northwest to southern California, this Portland doughnut shop quickly gained popularity making it a must-try for anyone driving through the rainy state. Go with an appetite, because you're going to want more than one!
---
Voodoo Doughnut (Portland, OR)
It's listed on almost every "best doughnut" round-up and for good reason. Choose from Raised Yeast, Cake, vegan options or heck, create your own! The Portland-based shop has expanded to Denver, Austin, and Los Angeles so be sure to stop by for a little afternoon pick-me-up!
---
Leonard's Bakery (Honolulu, HI)
Even when you're running on island time, there's always room for doughnuts. If you're in Honolulu, be sure to grab some malasadas, a Portuguese hole-less doughnut coated in sugar and your choice of filling …yum!
---
Oram's Donuts (Beaver Falls, PA)
For 77 years (and counting), Oram's has been delivering their top-selling cinnamon roll doughnut that's nearly twice the size of its competitor's! If you're ever in Pennsylvania, make this a priority…you won't regret it.
---
Sidecar Doughnuts (Santa Monica, CA)
Committed to serving the world's freshest doughnut, this new kid on the block has made a name for itself in the pastry world. Head to Costa Mesa to visit the flagship shop or stop by Santa Monica to indulge in creative and inventive flavors.
---
Union Square Donuts (Somerville, MA)
From their Sea Salted Bourbon Caramel to Brown Butter Hazelnut Crunch, this doughnut shop in Massachusetts is one worth visiting. The dough is made in house daily so you know you're getting something fresh.
---
Blackbird Doughnuts (Boston, MA)
Bostonians, consider yourselves lucky — because this artisanal doughnut shop is always cranking out the most inventive flavors. Choose from raised or cake doughnuts and be sure to try the mocha chip flavor; it's what doughnut dreams are made of.
---
DaVinci's Donuts (Alpharetta, GA)
The fun of DaVinci's is creating your own doughnut flavor so you're getting exactly what you want. Design your own masterpiece with drizzles, toppings, and icings for a fun and tasty treat!
---
Doughnut Vault (Chicago, IL)
Founded in a tiny brick alcove, this vault is known for classic, old-fashioned, and glazed doughnuts featuring delectable daily specials. You can't go wrong with that!
---
Federal Donuts (Philadelphia, PA)
If you want fried chicken with your doughnuts, then look no further. Touting coffee, doughnuts, and chicken, this fun spot has a little somethin' for everyone.
xx, The FabFitFun Team