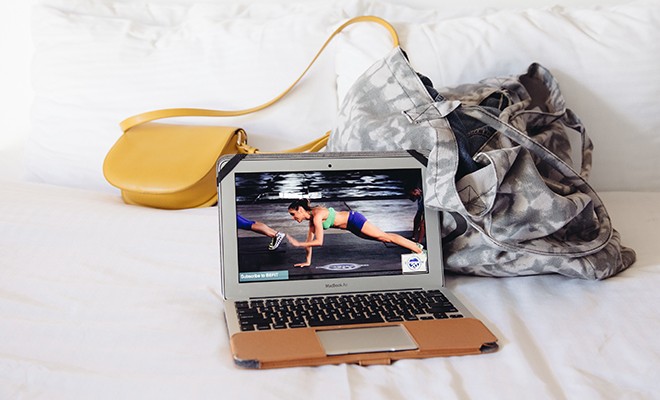 Last season was pretty monumental as we launched FabFitFunTV, an exclusive library of workout videos from the world's fitness elite.
Well, that was just the beginning…because we're rolling out tons more content (81 videos to be exact) this summer so you can get your sweat on wherever you are.
From gymnastics tutorials by Olympic Gold-Medal Gymnast, Jordyn Wieber, to dance cardio with Dancing with the Stars champ, Kym Herjavec, you'll have every workout you need right at your fingertips. The only problem? There's too many to choose from!
Check out the lineup release below:
June 1:
unplug meditation
Meditation has never been so interesting, inspirational, and easy!
June 5:
Jordyn Wieber
Want to learn gymnastics moves from an Olympian? It's your dream come true.
June 12:
LEKfit
Fitness expert Lauren Kleban carefully curated her sculpt and cardio workouts so you can get the best of dance and toning.
Speedplay & ShannonShape
Shannon Decker will take you through a unique and upbeat HIIT workout that'll target your arms, abs, and booty.
June 19:
The BOD by Kym Herjavec
Dance, sculpt, and tone your body with Dancing with the Stars champion, Kim Herjavec.
June 26:
OmStars
Perfect for all yoga levels, go through your own yoga journey with some of the world's best teachers.
July 3:
The Hollywood Trainer Club by Jeanette Jenkins
Jeanette Jenkins will take your workouts to the next level with her bootcamp classes.
Way of Gray
Sophia Gray offers simple and sustainable advice on how to love and accept yourself through toning workouts.
July 10:
Knocked-Up Fitness
Pregnant moms can work out too! Knocked-Up Fitness provides safe exercises for women at all stages of pregnancy.
July 17:
3S Fitness
Focused on providing their clients with personalized workouts, you'll tone like never before.
Action Jacquelyn
As a professional ballerina and former Laker girl, Jacquelyn shows the proper way to stretch from mastering half splits to open hamstrings.
July 24:
Edwina Cheer
As a celebrity sports nutritionist and fitness expert, Edwina provides invaluable workouts that'll tone your body.
LIVING with Ashley
Ashley is a certified nutritionist, fitness chef, and personal trainer, focused on providing tightening core workouts.
July 31:
Brett Hoebel
As a celebrity trainer on NBC's The Biggest Loser, Brett Hoebel will take you through cardio strength and fat burning workouts.
Lauren Roxburgh
Lauren is one of the most in-demand foam rolling and alignment experts in the world — so you can trust her stretching and foam roller videos will be optimal in improving your workouts.
Visit FabFitFun.com/TV or join today to get access to our exclusive fitness content.
What workout are you most excited for? Let us know in the comments below!
xx, The FabFitFun Team