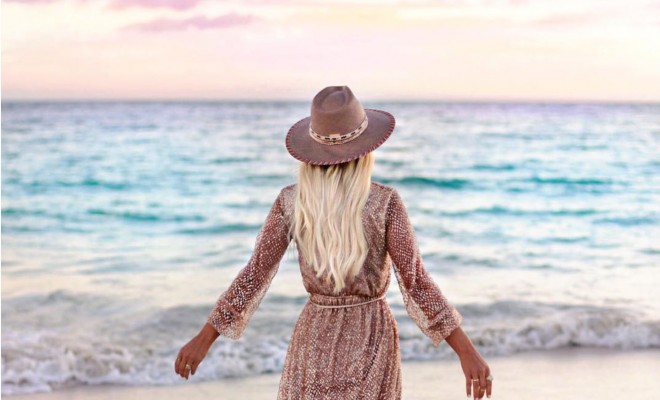 @gypsylovinlight
Ready for a vacation?
This summer we're particularly wanderlusting after the water. There's just something about the beach that's both soothing and exciting at the same time. It's exactly the feeling we're all craving.
Whether you're getting pumped to book your next flight out of town, or adding to your bucket list of places to visit, these beachy Instagram accounts will serve as the perfect inspiration. Take a break from answering emails and scroll through their photos for a quick digital getaway!
@brooklynhawaii
As her handle suggests, Brooke Dombroski is all things Hawaii. This O'ahu creative has a knack for capturing the most naturally picture-perfect gems that mother earth has to offer – whether that's a wave crashing against her surfboard or candid moments with her fun-loving friends.
---
@craigparryphotography
Water never looked so gorgeous. Craig Parry is a photographer and conservationist that magically highlights every single hue of the sea in his shots. We're especially into guest appearances by marine friends — his photos will take you swimming among turtles, whales, dolphins and more!
---
@sincerelyjules
This Cali girl is serious travel and style goals. The way she trots the globe in the most gorgeous outfits will inspire you to book your next vacation — and shopping spree. Tag along with Julie in her adventures through her blog, and shop her collection, too.
---
@gyspylovinlight
Helen's Instagram is the unicorn of beachy Instagrams. We're talking sparkling outfits, rainbow waters, and whimsical captions in every post. You'll be transported everywhere from her hometown shores of Perth, Australia to Bali, Indonesia with every photo.
---
@leahliyah
Colorful, action-packed, and full of life — Leah's feed is perfect for the traveler who wants to get the most out of every single place they visit. She may be young, but she inspires us to dream big and venture out of our comfort zones.
---
@cassandrarull
Cass is like your cool best friend that takes you on the most amazing adventures of your life every time you hang out. She'd also make sure you're decked out in the best of Hawai'i-made bikinis.
---
@lovekimiko
Amanda's shots aren't just pictures, they're stories. This professional photographer from Honolulu knows how to create images that are not only gorgeous, but evoke emotion in the viewer. We can't go through her feed without coming up with a million of our own stories behind what each photo could represent. Follow to dive into world after world of wonder.
xx, The FabFitFun Team