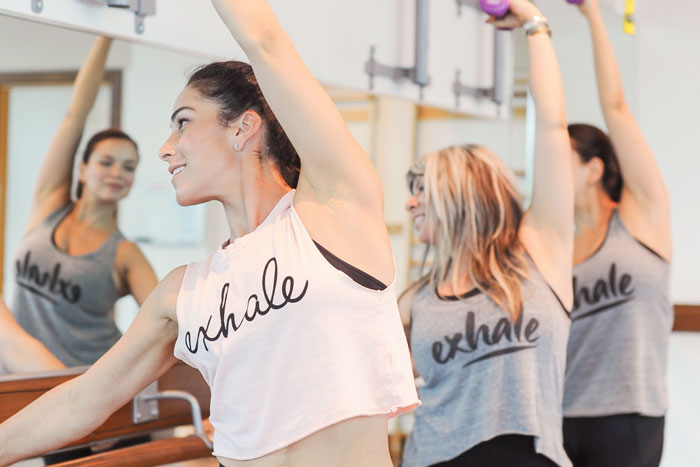 Yes, an intense HIIT workout or 30-minute spin sesh can help you work up a sweat. But what good is it if you're not also focusing on your mind, body, and soul?
That's where exhale steps in. Known as a well-being destination, exhale married high-quality fitness classes (like barre, cardio, and yoga) and results-oriented spa therapies (including massages, facials, and acupuncture) to help their clients find total mind and body transformation.
We decided to bring their carefully-selected boutique classes straight to FabFitFunTV (if you're not a member yet, sign up today) — because with every exhale you take during each workout, you'll finish feeling stronger, more flexible, and more balanced.
So how should a first-timer prepare for their workouts? Why should everyone try their workouts? We chatted with exhale's very own, Fred DeVito and Elisabeth Halfpapp, to learn more about their workouts.
What makes your workout method unique?
FD: At exhale, we have [a] great variety, so it is unique in its diversity.
EH: We focus on position and alignment, then how many reps or how long you hold a stretch, [and] lots of hands-on adjustments.
What should a first-timer be prepared for when trying your workout?
FD: Prepare for an hour of complete single-minded focus with no distractions.
EH: A safe challenge [that brings] them to their nurturing edge.
What's one thing you hope clients take away from your workouts?
FD: With patience, perseverance, and consistency — you will reach your goals.
EH: It becomes a lifestyle and a preparation for any other sport or activity.
How do you motivate yourself to work out when you're not in the mood?
FD: I don't overthink it, I focus on how much I need it and how good I'm going to feel when it is over.
EH: Just start to move…this is your health!
What's your favorite part of helping people get into shape?
FD: Empowering a person is my favorite part. Once they are successful, they feel invincible!
EH: Their positive energy and feeling good about themselves.
What inspired you to start a fitness studio/train clients?
FD: We had a technique that really changed people's body, mind, and spirit. Let's share it with the world!
EH: To help people make themselves feel better both mentally and physically.
5 reasons why FFFTV members should try your workout:
1. It's challenging.
2. It gives you fast and noticeable results.
3. It makes you feel better.
4. You will make rapid gains in flexibility and strength when doing [it] three to five times per week.
5. It's exercise you can do without a lot of equipment and [it's] assessable.
xx, The FabFitFun Team