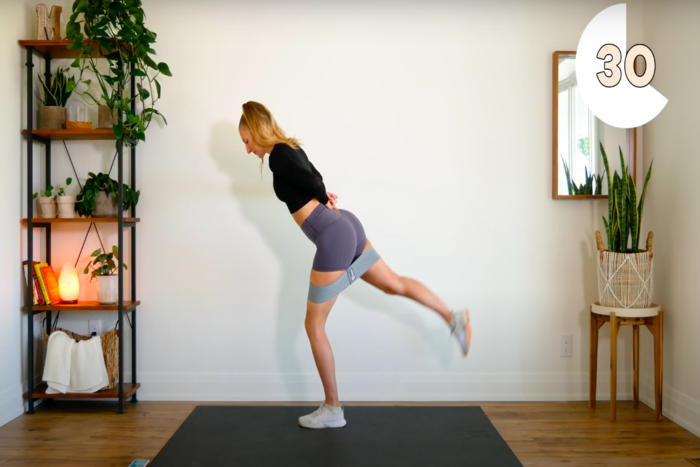 MadFit on YouTube
Let's be honest: at-home workouts can get a bit repetitive at times. If you're looking for a new way to challenge yourself, try adding some resistance bands to your workout routine.
There are so many benefits to using resistance bands. For instance, there's no limit to what you can do. Whether you're looking for a leg workout or a nice deep stretch, resistance bands are great for either. You can even do workouts you'd normally do at the gym in your very own home. And unlike dumbbells, you can take these wherever you go.
So here are the best online workouts you can do using fitness bands.
If you've never exercised with resistance bands before, this workout by Fit Simplify is perfect for beginners. The instructor, Marin, starts with the very basics and explains the movements in detail.
---
This short workout by MadFit will get you activating those glutes. Your booty will be toned and shaped in no time.
---
This workout by MrandMrsMuscle will show you just how challenging squats can be when you add in some resistance bands.
---
You'll be working up a sweat during this back workout led by Jesscbee. All you need are your resistance bands and your bedroom door. 
---
This 10-minute workout from LiveFitness will workout your abdominal muscles using a variety of creatives moves.
---
MadFit's total upper body workout focuses on the biceps, triceps, shoulders, back and chest. It's a 12-minute workout that will leave your arms burning in the best way.
---
If you're looking for someone a little more upbeat and fun, this dance workout by Tone 360 Fitness is full of energy. It's fairly short, but you'll want to hit repeat.
---
This 20-minute deep stretch led by Sydney Cummings will help you get a good stretch in using resistance bands.
---
This workout using mini resistance bands is led by Heather Robertson. It starts with the legs and moves up to the arms, then the core. You'll feel like you got a full-body workout with this one.
---
If you're looking for a real challenge, this intense 30-minute workout is it. Unlike other workouts, this one has no repeating moves and focuses more on doing as many reps as you can in 50 seconds.
xx, The FabFitFun Team