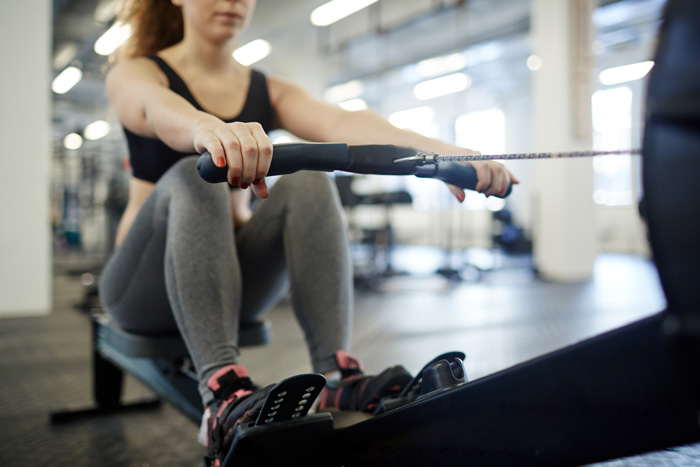 Injuries and underlying health conditions like arthritis can cause some serious aches and pains in your joints. When you're dealing with bad joints, the last thing you want to do is exercise. But physians from Good Samartian HS believe that some exercise can actually help to reduce joint pain and increase your strength and flexibility to prevent further injuries.
"While many people who have bad joints feel nervous training because of pain, with a proper understanding of workouts and exercises, they can feel better quickly," says Sebastian Krzeminski, a personal trainer with Seven. "In fact, inactivity allows for your muscles to stabilize around your weakened joints, which will make you feel even worse."
Here are some of the best exercises you can do if you have bad joints.
Strength training
The best type of workouts to do for bad joints are ones that focus on strength training. If you're working your upper body, Krzeminski says you want to work with one arm at a time. Some good exercises to do include alternating shoulder presses or bicep curls with dumbbells and push-ups with rotations. "Variation is the key to help your joints as the joint could be overloaded if you work unilateral or one-sided," he says. "To make sure your workouts are varied, make sure you are changing exercises, intensity, grip, and angles so that muscles are loaded in different ways."
Squats
This one may come as a surprise, but as Shayna Schmidt, certified personal trainer and co-founder of Livekick says, "Squatting is actually crucial for healthy joint function, as it helps to build up leg and hip strength." Over time, your range of motion will increase. As long as you're able to do it without feeling pain, it's perfectly safe to include in your routine. According to Schmidt, those with arthritis or other joint issues may benefit the most from doing wall squats or stability ball wall squats. When you practice squats against a wall, it can help reduce your risk of putting unnecessary or incorrect pressure on your knees.
Resistance band exercises
Resistance bands and tubes are typically used in physical therapy and rehabilitation. But, according to Schmidt, bands provide resistance that can be used to strengthen all muscle groups through isometric and isotonic strengthening. Isometric exercises, like banded squats, involve progressive muscle contraction while you hold the joint in one position. These types of exercises strengthen the muscles surrounding the joints in a gentle way because there's little movement in the joints. When you're doing isotonic exercises, the band is gently stretched through the range of motion of the joint.
Low-impact cardio
When you have bad joints, you want to avoid high impact cardio like running on hard surfaces. Riding a bike, walking, and swimming are all great low-impact cardio options you can do instead. If you're at the gym, Schmidt says the rowing machine, elliptical, and stationary bikes are machines with low-impact loads on the joints.
Yoga
There are a couple of good yoga poses that are ideal if you're dealing with bad joints. According to Schmidt, lunges stretch the hip flexors, which are very closely related to the hip joint, and the bridge pose is great because it helps to strengthen the knee joints while strengthening your hamstring and glutes.
xx, The FabFitFun Team