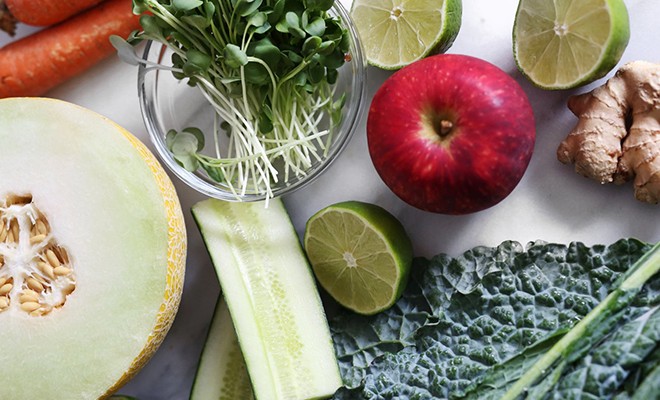 Hi guys! Today I want to talk about all things vegetables and more specifically how I eat them. I try my hardest to get the recommended five to seven servings of veggies every single day. I know that seems like a lot, and it is, but I like to mix them into pretty much every meal and snack to make it easier. I also love to make certain meals or snacks with pretty much all veggies so that I'm crossing off multiple servings in one meal.
These meals don't have to take hours to make either — I love to roast tons of veggies at once or blend up a smoothie or juice batch to save for the rest of the week. I'm all about things that are quick and easy to take with me before a workout or whenever!
I'll break it down into each meal and how I add more veggies into every part of my day! P.S. I'm currently doing an elimination diet and not eating everything listed below, but these have (and might again at one point once I realize what I'll add back into my diet) been on my meal plan before.
Breakfast
Eggs: mixing veggies like mushrooms and spinach into omelettes
Ezekiel bread: toast one slice of Ezekiel bread and top with hummus/avocado sprouts, tomatoes, onions
Smoothie: blend frozen berries, a couple handfuls of a green (kale, spinach, etc.), coconut water, a frozen banana, cucumber, and then I'll add some chia seeds, flax, whatever else I want!
Acai bowls: I'll blend a bunch of kale into my acai bowl. You can't even taste it! Especially when you add peanut butter 😉
Lunch
Veggie wrap: basically any veggies I want (lettuce, cucumber, carrots, etc.) mixed with chicken/turkey, hummus in a pita wrap, rice wrap, or lettuce wrap
Salad: if I'm out to eat, I'll order a big salad or will order different types of veggies as sides. This is an easy way to just fully load up on veggie servings!
Cauliflower fried rice: great substitute for rice and tastes delicious (see my recipe here)
Dinner
Veggie roasts: I'll cut up seasonal veggies (sweet potato and cauliflower are great right now) and pour a little olive oil, S&P and cayenne and roast them at 350 degrees for about 20 minutes — this is such a simple side.
Pasta: make quinoa pasta (yum! I love the Trader Joe's one) with basil, tomatoes, eggplant, artichoke hearts, spinach, and toss it with extra virgin olive oil and S&P for a easy, basic, healthy, and yummy dinner!
Veggie Soup: blend up veggies you have in the house with coconut milk for a creamy and delicious soup! One of my favorites is edamame & spinach soup or cinnamon butternut squash. Yum!
I like to make sure my dinner is ⅔ veggies and the rest protein! That seems like a lot, but having that mindset is a very healthy approach to dinner — plus it fills you up!
Snacks
Carrots, cucumber, and celery and hummus
Gluten Free crackers, hummus, sprouts, cucumber, spice, and sesame seeds
Roasted kale chips
Spring rolls, yum!
Green juice: you've probably seen me share this on Snapchat, but I'm a huge fan of making a ton of green juice and storing it all week. I'll have a huge glass as a snack.
xx, Remi
For the latest and greatest info on health and fitness, be sure to check out rrayyme.com!
---
This story was written by a fab member of our Ambassador Network.