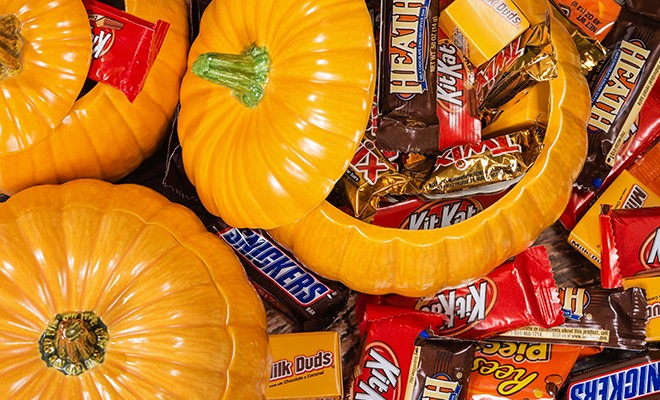 The only thing better than dressing up on Halloween? All the delicious candy and sweets we're going to eat.
All Hallows' Eve is the one night of the year where we can indulge a bit more than usual…but don't go too overboard! Consider handin out and treating yourself to these healthier alternatives instead. You won't even remember that you skipped the candy corn and mainstream chocolate bars.
Sugarwish Chocolate Covered Sunflower Seeds
Want to take your Halloween candy to a fancier level? This adorbs company offers the best selection of sweets and wraps them in the cutest way. We're especially loving the milk chocolate sunflower seeds — this sweet treat is better than regular chocolate as it packs in your daily vitamins B&E.
---
Justin's Milk Chocolate Peanut Butter Cups
You can't ever go wrong with chocolate and peanut butter — but make it organic, and you've got us hooked! Two large peanut butter cups are a little over 200 calories, making it the perfect healthy treat to satisfy your chocolate cravings.
---
Mini Larabars
Opting for vegan options this Halloween? Try Mini Larabars to satisfy your cookie and pie cravings. Each bar is only 100 calories or less, so you can indulge in sweets without the extra on your hips.
---
Unreal Milk Chocolate Crispy Quinoa Peanut Butter Cups
Quinoa isn't just meant for breakfast and dinner — add puffed quinoa to a creamy peanut butter cup and you've got yourself a guilt-free treat this Halloween!
---
Annie's Organic Berry Patch Organic Bunny Fruit Snacks
Forget your sugary gummy bears because Annie's has the healthiest and most delicious alternative yet. These delicious organic snack packs satisfy your fruity craving without the preservatives. Not only are they non GMO and gluten-free, but they're also made with real fruit juices.
---
Boom Chicka Pop Single Popcorn Packs
We all love a good bag of sugary kettle corn, but these packs taste just as delish — and they're healthier. Kids and adults alike will be reaching for these popcorn bags of kettle corn, salted caramel, and sea salt popcorn. Yum!
---
Sun Maid Vanilla Yogurt Raisins
These adorable mini boxes are the perfect portable snack to pass out this year. With only 120 calories in each pack, you won't feel guilty indulging in a sweet treat.
---
TruJoy Organic Fruit Chews
If you're a fan of chewy candies, you'll love these Organic Fruit Chews! Think Starbursts without the synthetic flavors and sustainably sourced!
---
Organic Jelly Beans
We know, we know. You want candy corn on Halloween. Well, if you want something a little bit more health concious, try these scrumptious organic jelly beans! The colors make them a little more festive, so you won't even know the difference!
---
Sockerbit Sour Skulls Halloween Jar
Get your sour fix with these delicious Halloween skulls from Sockerbit, a Swedish candy store whose candy is free from transfats, GMOs, and artificial coloring. Guilt free snacking? We think yes!
xx, The FabFitFun Team