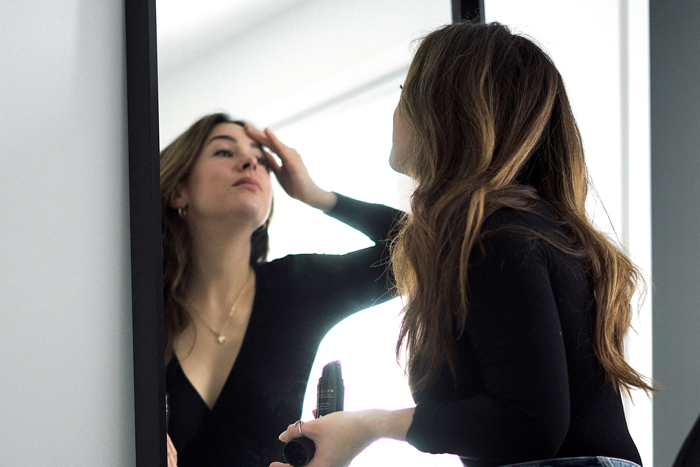 Feature Image by Mathilde Langevin
Hyperpigmentation can often look like freckles, beauty marks, or kisses from the sun (as adults would say when we were kids). However, hyperpigmentation breeds a different meaning as we get older—one that remains harmless but should be taken seriously.
What is hyperpigmentation and how does it occur?
Hyperpigmentation is a skin condition in where patches of the skin tend to darken in comparison to the surrounding skin. Sometimes these dark patches appear when melanin overproduces and forms deposits in the skin. Hyperpigmentation can be caused by inflammation and acne scarring, hormone fluctuations, sun exposure, melasma, medication, and more.
How do you treat it?
Start by staying inside, forever. Only kidding! There are plenty of ways to treat hyperpigmentation as well as preventatives that will work to protect your skin in the future. Start by wearing sunscreen 24/7 or at least when necessary. But still, there's more work to be done. Here are a few tips you can try.
Do not pick at your acne.
Pimples come and go, but the scarring is forever. And with scarring comes inflammation, and now you have the perfect recipe for hyperpigmentation. If you want to treat your acne without taking your fingers to it, try Glossier Super Glow. This $28 bottle of goodness is packed with vitamin C, so it works to even the skin tone and improve the appearance of dark spots.
Nothing a little ACV can't fix.
Apple cider vinegar is one of the most popular natural remedies—and you probably have a jar of it sitting in your house right now. ACV is known to help with hair growth, dry skin, and a plethora of gut-related ailments. But, of course, there is always more. ACV can potentially heal your dark spots as well. All you gotta do is dilute it with water and apply it to your dark spots. Let it sit for a few minutes and then rinse with warm water. Easy enough? Good, because you'll want to repeat this twice daily.
Wear sunscreen, period.
As mentioned before, hyperpigmentation is often the result of overexposure to the sun. Yes, we love vitamin D and summer days. However, the sun emits some pretty powerful UV rays that can send your pigment into overdrive. Make sure to apply a broad-spectrum sunscreen with both UVB short-wave and UVA long-wave protection. We recommend Cocokind Daily Sunscreen, a mineral-based sunscreen that protects against UVA and UVB rays, blue light, and pollution damage.
Stick to gentle skin care products and stay moisturized.
Too often it's skin care products that, well, don't care for our skin like they should. Some products will cause acne, inflammation, and additional forms of irritation that with time, can produce hyperpigmentation. Make sure your beauty cabinet is stocked with only the best for your skin. In addition, we recommend products that are high in moisturizing agents like glycerin and hyaluronic acid as they will work to brighten, heal, and restore your skin.
Get help from beauty tools.
Sometimes, our skin care products need a little nudge to do their best job–and that's when facial cleansing devices come in. If you feel like you could be reaping more benefits from your cleanser or serum, try using a device like the PMD® Clean in your daily routine. It has over 7,000 vibrations per minute to ensure a deeper cleanse (as compared to just using your hands), while also lifting, firming, and toning any problem areas. Even better, using a cleansing device can help minimize the appearance of blackheads and enlarged pores. 
Another tool we love is the PMD Personal Microderm. This tool is an easy way to stimulate new cell growth by exfoliating away the dead skin cells! It can help speed up the process of fading any hyperpigmentation, blemishes, and fine lines due to the aluminum oxide crystals. Plus, once the top layer of dead skin cells are removed, your skin care products can penetrate 20 times deeper. We recommend using this product once a week!
Turn to the experts (sadly, that is not us).
There's only so much that at-home remedies and over-the-counter products can do for your hyperpigmentation. Don't stress though! If you're truly at war with the dark spots on your skin, we recommend taking it to a dermatologist. They can perform chemical peels, laser therapy, and microdermabrasion to help heal your skin.
We think you look beautiful just the way you are, but if you're looking for some serious help, please consult your doctor as we are not medical professionals.
xx, The FabFitFun Team