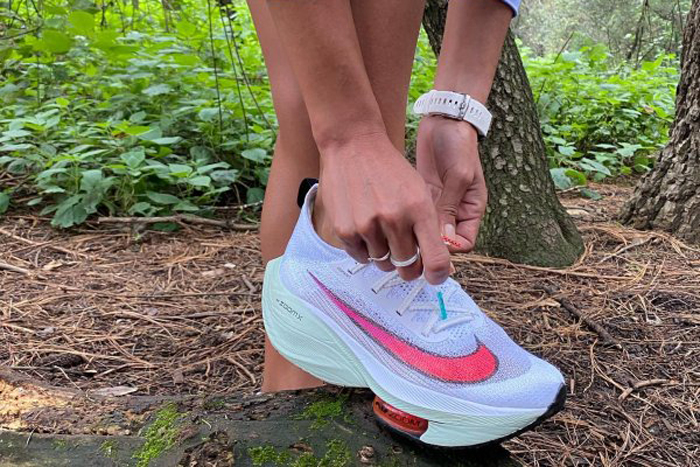 Feature Image by @brendaefloresm
A good pair of running shoes is like a trusted friend: reliable, faithful, and consistent. Runners know that apart from a good night's rest, hydration, and a pre- and post-run stretch, there is nothing more quintessential to a great run than a good pair of running shoes.
Running shoes are truly make it or break it for a runner. Without the proper shoes, you can cause unnecessary discomfort during a run or even injury due to poor support for your arches and ankles.
So what exactly should you look for in a pair of running shoes? Ahead, we share what to look out for, plus a few shoe recommendations that meet those requirements. Happy running!
A Spacious Fit
This is obvious, but your running shoes should not suffocate your feet. When you run, both your hands and feet swell, so your shoes should have a thumbnail's length between your longest toe and the end of the shoe. You should also have enough width or space in the shoe's toe box as running shoes that are too tight can lead to blisters.
---
Seamless Uppers
A shoe with seamless uppers means less material, more comfort, and a lightweight feel. When there is less material, there is a lower chance of seams rubbing against and irritating your foot. You want a shoe that comfortably hugs the top of your foot without constantly rubbing up against it. The friction of seams rubbing against your foot can lead to blisters.
---
The Right Arch for Your Foot 
Picking the right shoe is largely dependent on the arch of your foot. Flat arches require stable shoes. Medium or high arches require a neutral shoe. Meanwhile, very high arches need extra cushioning. Why is this important? The arch of a good-fitting running shoe will contour or shape with the arch of your fit for ultimate comfort and the perfect fit.

---
The Amount of Cushion
The more cushion a shoe has, the stiffer and heavier it will be. The extra cushion also means that a runner is less able to feel the ground and the impact of their feet hitting the pavement. Firmer shoes allow for road feel and responsiveness aka spring-back on the road, which minimizes stress on your stabilizing muscles. The downside of minimal shoes is that while they provide better responsiveness, they also provide less protection from the road.

---
Breathability
There are a lot of running shoes on the market that are waterproof. While this might sound ideal for rain or snow, the truth of the matter is that running shoes made from waterproof material don't breathe well. Therefore, your feet will get hot or sweat on warm days. Also, if the inside of a waterproof shoe does get wet somehow (either from sweat or something spilling on them), they never dry! That will make for a really uncomfortable run, which is why you should look for shoes with a breathable material.
---
Flexes Correctly
The soul or outsole is found at the very bottom of your shoe. It is important that your running shoe has grooves built into the sole to help you steer your foot. A shoe's flex point should bend at the same point as your foot for a natural stride (your foot should be able to flex and bend well)!
xx, The FabFitFun Team