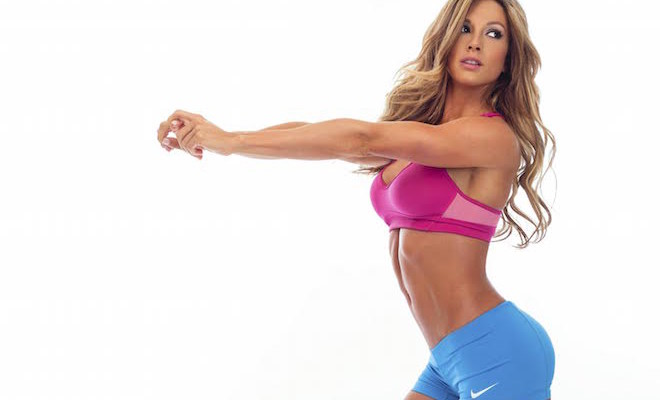 This month's #WWA (Women We Admire) series is one not to miss. We've tapped lifestyle and fitness expert Paige Hathaway, who literally turned her life around in a positive way and created her very own empire. She's living proof that you should always shoot for the stars and never give up. From uh-mazing workout tips to inspirational career advice, check out our exclusive interview with her below.
How did you become such an influential fitness icon at the age of 28?
I know people say this all the time, but it kind of just happened. My journey was more about me and doing everything I could to be both healthier and happier with myself. Being rewarded and fortunate enough to mentor all of these men and women is an incredible bonus. What's most important is that I am doing what I love to do and feeling good about it every day.
What inspired you to tap into the fitness world?
A combination of a bad breakup and a very persistent personal trainer. At the time, I lived in Oklahoma City and just worked out recreationally. I had been approached a few times by the trainer of a new local gym about bikini competitions but didn't think it was for me.
After my boyfriend at the time and I called it quits, I needed to focus my energy on something positive. I went back to the trainer and was ready to work. Personal fitness became a natural and very healthy rebound. I quickly fell in love with lifting. Not only did my trainer show me how to lift, he taught me all about weight training and nutrition.
Did you face any career challenges along the way?
One challenge I faced was being seen as more than a fitness coach and model. There is so much more I want to do with my life and share with my fans beyond this space. Don't get me wrong, I am beyond fortunate to be recognized for something that I love to do. And having the ability to help empower others who may need that extra push is another benefit. But the truth is that I don't want to be defined as one thing. And there are other things that I love to do as well — like cook and design.
Secondly, being seen as a serious competitor and formidable opponent in this mostly male-dominated industry. In the beginning, it was intimidating to approach the weight room as I wasn't 100% confident I knew what I was doing. I wanted to be taken seriously as a woman and someone passionate about fitness. But most importantly, I wanted to be perceived as a true competitor and I had to work that much harder to be comfortable in my own skin.
Any tips for success?
To succeed, you must have a tremendous will and the burning desire to achieve your goal. You must know in your heart that consistency and perseverance are the only way. You may not be the most gifted, have the most talent, or even be the most educated, and that's okay. Determination alone is contagious omnipotent. The hardest working person in the room will always outshine the rest.
What is the most rewarding part of your career?
Being a part of a person's journey as they transform into the best version of themselves.
Did you ever want to quit?
We are all only human. There have been many days where I thought about giving it all up. But when I am having a rough patch, I just remind myself that this is much bigger than me. It is about everyone else that I am able to help guide to be a happier and healthier person. That puts a big smile on my face and sets me back on course.
How do you unwind?
I rest so that I can save up my energy for the next lap that I will run or the next weight that I will lift. A little wine or a massage every once and a while doesn't hurt much either.
As a fitness guru, do you give yourself a cheat day?
Absolutely, it is all about balance. I need a cheat day so I work that much harder when I am on. My go-to is definitely pizza, you name the toppings.
How do you stay healthy on-the-go?
I travel a ton and sometimes I don't have time to hit the gym. That is the specific reason I created the PH Fit In 5 series. Each Fit In 5 provides a condensed workout that can be performed anywhere and doesn't require any props. With deliberate breathing and constant muscle contraction, five minutes can prove a tough enough challenge even for an advanced fitness enthusiast like me.
What is your favorite outdoor workout if there's no gym around?
I like to opt for plyometrics! I have a wonderful Fit in 5 Video  (above) on my website that explains this more in detail. It is a beautiful thing — a quick workout that can be done anywhere, at any time and guaranteed to make you sweat.
Any advice for someone looking to start a fitness journey? 
Don't wait for someone to open the door. Build your own door, make your own entrance and create your own path. Empower yourself and hold yourself accountable.
For more Paige, don't forget to follow her on Instagram.
xx, The FabFitFun Team