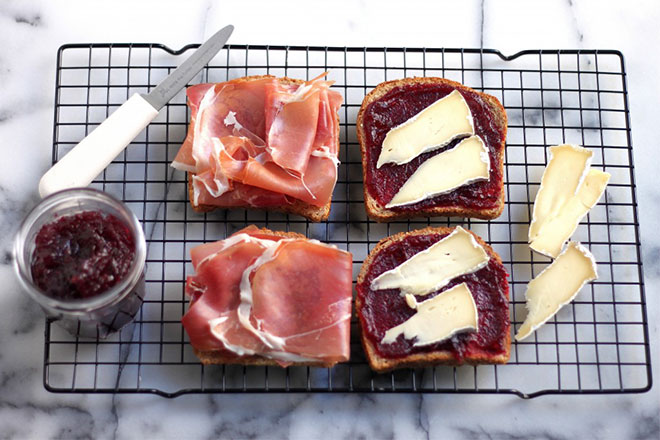 There's a reason why your parents always packed a sandwich for your school lunches — it's easy to make and the options are endless! So why not revisit your childhood and take a break from those boring salads. Up your sandwich game with ten incredibly delicious sandwich recipes.
Now for the real question — rectangles or triangles?
The Ultimate Veggie Sandwich
Veggies never looked so appealing. This sandwich is light enough to do your body good and it's also filling enough to power you past midday.
---
Turkey, Apple, and Brie Sandwich with Apple Cider Mayo
This sandwich takes sweet and salty to the next level. Who knew apples and turkey could complement each other?
---
Smashed Chickpea, Avocado, and Pesto Salad Sandwich
Perfect for vegetarians and vegans, this sandwich takes our fave sandwich ingredient and puts a twist on it with smashed chickpeas and pesto.
---
Almond Butter and Fresh Blueberry Sandwich
Peanut butter is a thing of the past — it's time to take the classic PB&J to the next level with almond butter.
---
Smoked Salmon Salad Sandwich
Chicken and tuna salad are delish but smoked salmon salad is even better. Prep smoked salmon the week before and mix it in with your salads, too!
---
Pear-Walnut Sandwich
Crispy pears, toasted walnuts, and cinnamon raisin toast? We're diggin' it! Pair this delightful sandwich with tomato soup and you're good to go.
---
Avocado BLT
Otherwise known as a BLTA, the addition of avocado to the traditional sandwich ups the nutrition and yum factor!
---
Cranberry, Brie and Prosciutto Grilled Cheese
This sandwich feels fancy, but it's actually very simple to make. We especially love the cranberry jam and melted brie combo!
---
Salami and Cream Cheese Sandwich
Mustard, salami, arugula, and cream cheese… Could it get any more simple and enticing?
---
Grilled Hummus and Caramelized Onion Sandwich
Cmobine sweet onions and savory hummus to make your taste buds do the happy dance.
xx, The FabFitFun Team