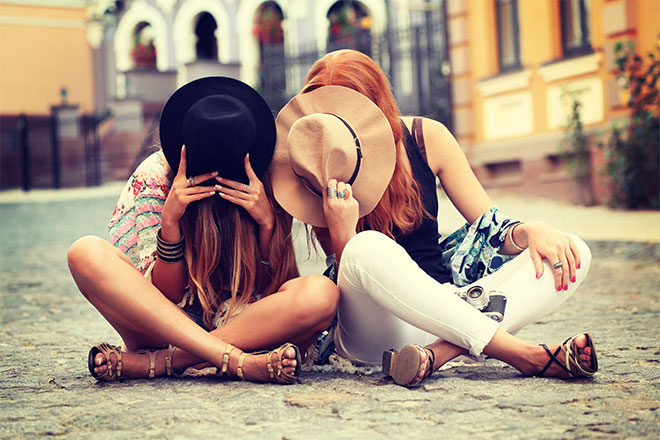 We love spending time with our BFFs. However, we can sometimes get stuck in a rut of doing the same ol' thing with our best gal pal every weekend. So next time you plan a BFF date nix your go-to bar off the list and try one of the date ideas below with your best bud.
Get a Piercing
OK, a piercing may sound a bit out there — but we're not saying you have to go crazy on the piercings. Be a little spontaneous with the BFF and get that third ear piercing you've always wanted. Or even get a small cartilage piercing and match with the BFF! It's comforting and fun to have your BFF with you while you do something out of the ordinary. Plus, you'll be able to bond on another level.
Hike and Have a Picnic
You likely go on walks around the mall or walk to cafes with your BFF — but when's the last time you went on a hike? Make it an official date by bringing a blanket, some drinks, and light sandwiches for when you conquer the hike. Enjoy the view and leisure time with your BFF.
Go to a Trampoline Park
Trampoline parks are so underrated and we guarantee you and your BFF will have the time of your life. You'll even be burning a handful of calories while you're jumping around in the foam pit. Don't forget to record some videos!
Take a Dance Class
Channel your inner Beyoncé and get to work on those dance moves. Dance classes take you out of your comfort zone and are great for exercising your mind since you need to memorize moves rather quickly. And it'll only be more fun by having your BFF to laugh with when you mess up.
Go Thrift Shopping
Shopping dates with your best friend can get expensive. Try thrift shopping the next time you're out — you never know what unique pieces you'll find.
What are some other unique BFF date ideas? Let us know in the comments below!
xx, The FabFitFun Team