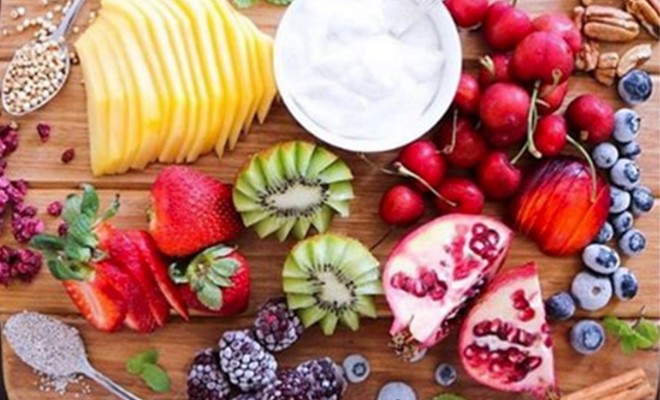 @_rachelbutler
Skincare is everything. You likely think about what types of products or ingredients you're putting onto your face.
But have you ever thought about what you put into your body and how it affects your skin? Just like there are foods that can make you break out, there are plenty of foods to chow down on for a clearer complexion.
Here are 10 foods to eat for flawless skin:
Strawberries
Fruit in general is great for youthful skin, but strawberries are packed with anti-aging elements like vitamin C and antioxidants.
Pomegranates
Like strawberries, pomegranates are rich in antioxidants, but it also helps combat inflammation and dry skin!
Olive Oil
Oily-skinned folks may be afraid of the word "oil" when it comes to their skin, but don't fret! Olive oil has tons of anti-aging properties, and you can even put it directly onto dry, damaged skin to hydrate and soothe!
Oatmeal
That's right! The steel-cut variety of this popular breakfast treat is proven to help with wrinkles and healing damaged skin. Look for face masks like this one with oatmeal in the ingredients or have a bowl with some fruit in the morning for a healthy skin boost.
Dark Chocolate
Chocolate? Good for your skin? Yes, friends, dark chocolate can actually make your skin firmer and softer. Stick to chocolate with high levels of cocoa, though, and don't overdo it. Eating dark chocolate can also benefit your memory, so all the more reason to indulge!
Green Tea
Drink up! This delicious beverage (sans any added sugar) enhances your skin's defense against harmful UV rays and improves elasticity.
Fish
As you may know, fish like salmon and mackerel are loaded with omega-3 fatty acids, which are not only good for your heart but also good for fighting inflammation and acne.
Soy
Whether it be snacking on edamame and tofu or opting for soy instead of cow's milk (which some say is a cause for breakouts), consuming soy can reduce hyperpigmentation and prevent wrinkles.
Carrots
Back in the day, people used to say if you ate too many carrots, your skin would turn orange. However, carrots can actually make your skin brighter! Skip the highlight and munch on some carrots for a natural glow.
Water
It seems like common sense, but drinking plenty of water hydrates your skin and keeps it looking fresh.
xx, The FabFitFun Team