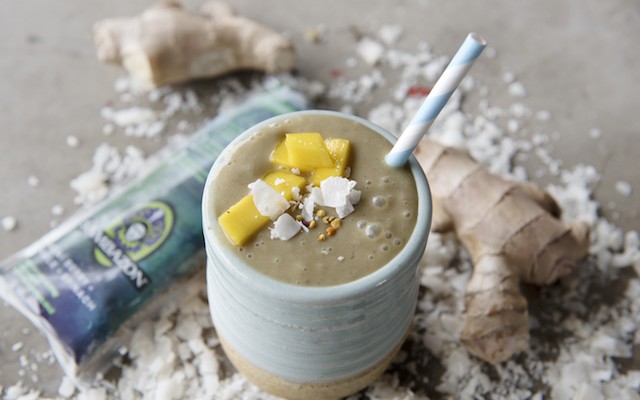 If you're familiar with the Indian Mango Lassi drink, then you know that they can be even more addicting than a Real Housewives marathon (they get us every time!). The Mango Lassi is famous in Indian cuisine not only because it tastes fantastic, but also because the creamy ingredients help cool your mouth down after eating a very spicy Indian meal. Luscious and creamy, this drink is a smoothie lover's dream!
We have a healthier alternative to the original, all thanks to New York Times best-selling author Kimberly Snyder. The recipe is vegan, loaded with superfoods, and is incredibly easy to whip up — a great way to kickstart your health and motivate you to a more nutritious lifestyle!
Mango Lassi recipe courtesy of Kimberly Snyder
Ingredients
1 acaí pack
1 mango, cubed
6 ounces coconut yogurt
1 cup coconut milk (unsweetened)
1 cup frozen banana
¼ inch fresh ginger
Tip: Peel your banana, cut into rounds, put on a cookie sheet with wax paper,  and freeze. Store frozen rounds in the freezer until needed.
Directions
1. Put all ingredients in blender and blitz until smooth.
2. Pour into a glass and top with coconut shavings.
xx, The FabFitFun Team