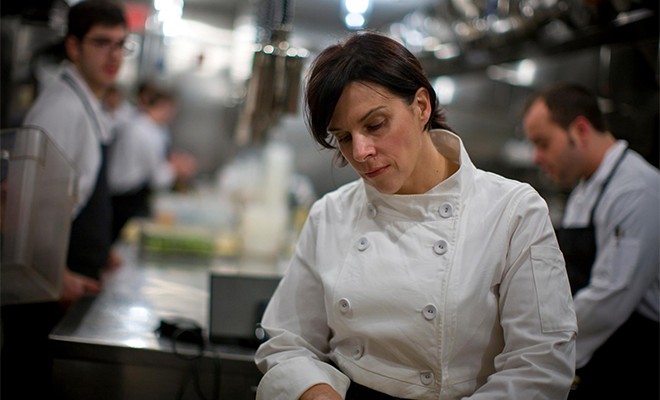 Facebook / Barbara Lynch Gruppo
Women in the workforce is nothing new, but women taking the lead in a workforce? Yep, that's pretty cool.
Lately, we've been seeing more and more #girlbosses owning restaurants and taking over the kitchen (sometimes multiple kitchens). They manage restaurants, cook in the kitchen, and plan out new menus…all while maintaining a work/life balance.
We want to recognize some of the strongest female restaurateurs out there across the country. From Boston to Los Angeles, these are the ladies you should keep an eye on. They might just be coming to a town near you! Oh, and their restaurants are def worth a try.
Nancy Batista-Caswell
Operating three restaurants doesn't sound like an easy feat, but Nancy makes it look like a piece of cake. The Massachusetts-based restaurateur and "Jill-of-all-trades" has a hand in each part of her fabulously successful restaurants from the blueprints to the wine pairings. The 33-year-old is well-respected by customers, staff, and the boutique wineries she features. Check out her restaurants Ceia Kitchen + Bar, BRINE, and Oak + Rowan the next time you're in Newburyport and Boston.
---
Niki Nakayama
Transforming a genre of food isn't exactly simple, but Chef Niki has truly taken over Japanese cuisine and pushed through gender barriers at the same time. This restaurateur not only made Fortune's "The 2016 Most Innovative Women in Food and Drink" list, but has gained fame for her 13-course dishes that are constantly changing, and her stint on Chef's Table. She's even been dubbed the "Queen of Kaiseki" by Celebrated Living.
---
Daniela Soto-Innes
Were you the chef de cuisine at a NYC hot spot that you helped open when you were 24? Nope, but Daniela was. She helped Mexico City-based chef Enrique Olvera build Cosme, a Mexican-inspired restaurant, and has been the boss ever since. The now 25-year-old is also a James Beard award winner, Cosme won the "Restaurant of the Year" award from Eater, and President Obama stopped by to see what all the fuss is about. Talk about impressive.
---
Barbara Lynch
Overseeing one restaurant is enough work for an entire family — try owning and managing seven (yes, you read that right!). Barbara is one of the country's leading chefs and restaurateurs; her Boston-area restaurants are award-winning, her recipes have been featured in publications from Bon Appetit to The New York Times, and she is the CEO of her own company, Barbara Lynch Gruppo which includes top restaurants like Stir Boston and Menton. On top of that, she's involved with philanthropic organizations and even started her own. #GirlBoss
---
Suzanne Goin
Juggling three fine dining restaurants (a.o.c., Lucques, and Tavern), four Larders, three children, and a number of other endeavors make Suzanne a restaurateur extraordinaire. The Los Angeles native has won award after award for her carefully crafted menus — her dishes at her restaurants range from braised beef short ribs to the incredible swordfish (our tummies are growling). She's been nominated for the "Outstanding Chef" James Beard award eight times and snatched the national title this year.
xx, The FabFitFun Team