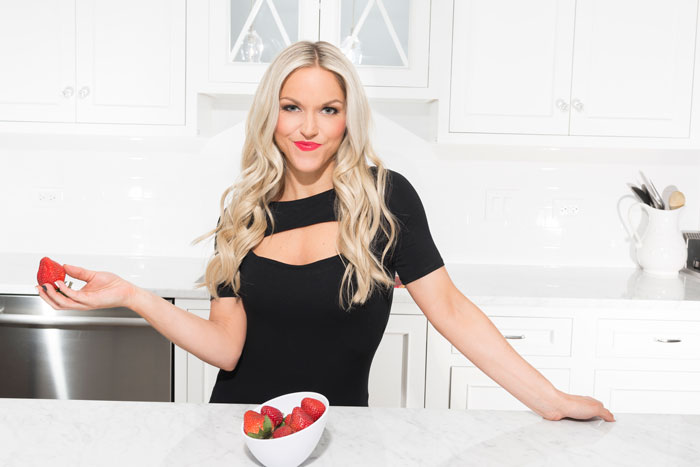 Ready to improve your health from the inside out? With the help of Ashley Pettit, you can do just that.
The wellness expert, certified holistic nutritionist, fitness chef, and personal trainer is making it so easy to enjoy eating clean. She believes that food equates to fuel, natural medicine, positive energy, and the best wholesome beauty product to leave you feeling good inside and out. Pettit also takes unhealthy dishes from all cuisines to "recipe rehab," giving them an ingredient makeover that cuts calories without compromising flavor (imagine a guilt-free version of a chocolate and peanut butter cookie!).
From a Winter-Roasted Apple Chicken Salad to a Zucchini Noodle Bolognese, it's all on FabFitFunTV (sign up today if you're not a member yet!). Check out what this health guru had to say about her inspiration for new recipes, the five things she keeps in her fridge at all times, and the one kitchen item everyone should invest in.
Where do you find inspiration to create new and original recipes?
My "Recipe Rehabs" are a popular request. I take unhealthy versions of food across all cultures and rehab the recipe so you do not lose flavor, but calories and fat instead. A lot of my other inspiration comes from wanting to pair certain colors believe-it-or-not to gain more nutrient-density per meal and also bring forward a pretty aesthetic because we eat with our eyes often!
How did you get into cooking?
I started cooking when I was younger with my mom and grandmother. Then throughout high school and college, I loved cooking for others. It brings me so much joy! I try to keep the tradition by being in the kitchen as much as I can with my daughter.
Cooking and nutrition now also plays a serious role in my overall health as I was diagnosed with adult-onset allergies to quite a few common foods. So it went from more of a pastime to my professional passion as food relates to wellness.
What are five ingredients you always have in your fridge/pantry?
Medium salsa, millet-chia bread (to make "toasties" in the morning), greens, avocado (as a healthy fat to spread and dip), and all sorts of flavored sea salts [including] Himalayan crystal salt to use when cooking.
What kitchen item is worth investing in?
A slow-cooker! I love one-pot wonders where [you can just] toss everything in, and in just a few steps, you have a complete meal.
Can you share three to five reasons why members should try out your cooking videos?
1. Learn how to choose nutrient-dense ingredients and healthy ways to prep.
2. Expand the use of flavors and spices to create a wider variety of dishes.
3. The recipes aren't complicated (I'm a working mom too!).
4. They're budget-friendly in terms of both money and time.
Want more? Sign up for Ashley's APLiving Membership Community here with code FFF2018 and get the month of February free!
xx, The FabFitFun Team