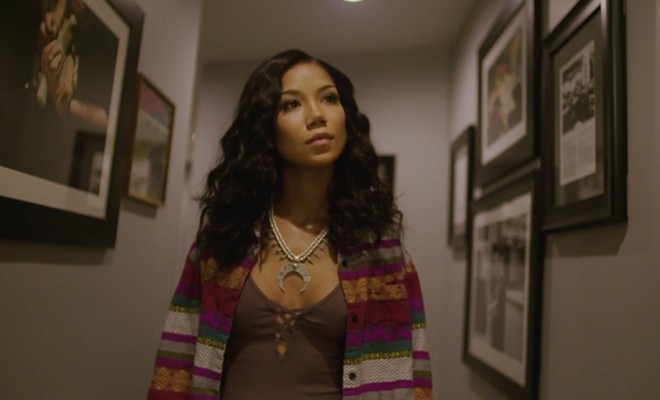 VICE Autobiographies
I'm constantly motivated by the women around me. Whether it be my mom, my roommate, or my boss, I make sure to surround myself with those who will only empower me to be the best version of myself.
I'm also incredibly inspired by successful women who are consistently in the spotlight yet somehow manage to stay true to themselves – like singer Jhené Aiko.
OK, OK, so you might pin this article as another generic piece about a "role model" celebrity. But let me tell you, Jhené's journey as an artist has inspired me much more than even I could imagine.
To give a bit of background, Jhené is a 28-year-old R&B singer and songwriter who, despite her celebrity status and drastic life changes, worked hard to output music that reflected her growth as a woman and her journey of discovering herself.
I admire that about her wholeheartedly — because I've struggled with being content with who I am. Her journey as an artist and mother influenced me to be confident in whatever I do.
Here are four reasons why Jhené has and continues to inspire me:
She Didn't Sell Herself Short
Jhené was quick to jump back into working on music after giving birth to her daughter Namiko. However, she said in an interview that she was told to "'sell' [herself] when walking into these meetings," but that's when she decided to "'sail' [herself] rather than sell [herself]." Staying true to this statement, she released an amazing original mixtape titled Sailing Soul(s) — which was incredibly successful.
She Knows How to Balance Family and Work
Even though Jhené unexpectedly had Namiko, she's shared in interviews that motherhood made her fearless. She's intentional with the time she spends with her daughter and family. It might take her a bit longer to record an album but she said, "it's worth it because my child comes first."
She Isn't Afraid to Face Her Struggles
Jhené has been through a lot in the past few years — she was involved in a car accident in 2013 and her brother passed away from cancer in 2012. She's come to peace with the good and bad times in her life and shown this to her fans through her art. Even one of her music videos was based off of these incidents.
She's True to Herself
Her music is a reflection of who she is as a person and the types of obstacles she's faced in her life — and how she has come to accept it. It inspires me to do the same.
xx, Monica
P.S. This article is a part of a special FabFitFun content series in partnership with PearlxChange in an effort to empower and uplift women. Join our Editor-in-Chief, Katie Ann Rosen Kitchens, along with Nicole Richie and other inspiring women on Nov. 5 in West Hollywood for the "Pearls of My Life" Panel where they'll be sharing their own stories. Find more information here.