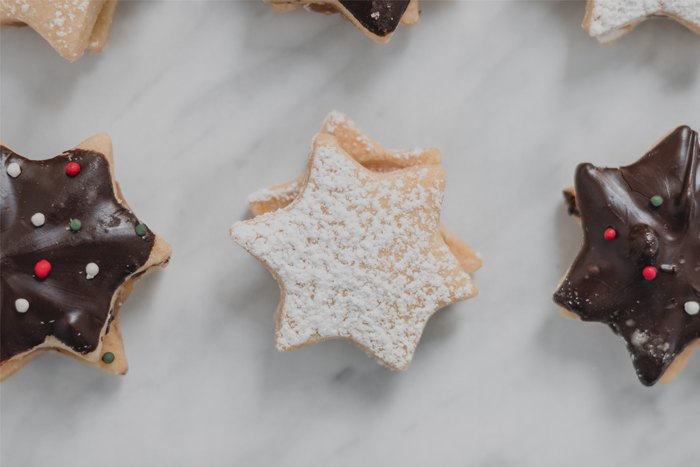 Feature Image by Angélica Echeverry
This may have been the year when everyone spent more time baking, but we know that when it comes to the holidays, you'd rather spend more time with loved ones than in the kitchen.
That's why we rounded up some easy cookie recipes that will give you more time for other holiday activities. So, grab your cookie sheets and get ready to bake!
What could be easier than a four-ingredient cookie recipe? We bet you already have the eggs and canola oil, so all you need is cake mix and peppermint baking chips!
---
Gingerbread is a holiday staple and you don't have to be an expert baker to make it. Once you gather spices like cloves, nutmeg, and cinnamon, you combine everything and let it sit in the fridge, then put it in the oven to bake.
---
This is a great one to make with the entire family. Once you've made the coconut and powdered sugar mixture for the base, melt some chocolate and decorate with mini M&M's or whatever candies you have.
---
As the name suggests, you'll need cream cheese, powdered sugar, and mint extract. The key is here is to pay attention to your measurements and not overdo the liquid ingredients so your cookies will firm up.
---

If you're low on time and energy, this is the perfect recipe for you. All you have to do is dip Oreos in white chocolate and dust with crushed peppermint!
---
You may have to gather several ingredients like ricotta cheese, pistachios, and orange zest, but everything is mixed into one bowl to make it easy for you. Once the cookies have baked and cooled, just drizzle them with chocolate.
---
Take a thin cookie (like Nabisco Famous Chocolate Wafers) and coat it on both sides with white chocolate. Sprinkle crushed peppermint on top and let the chocolate harden. That's it!
---
This recipe is a bit like turning a s'more into a cookie. You'll need graham cracker crumbs, cocoa, and marshmallows. Once you have the cocoa mixture around the marshmallows, stick them in the freezer until you're ready to serve.
---
Want to have the cookie decorating experience without actually making cookies? Just pull out some graham crackers, icing, and decorating candy, like gumdrops and M&M's.
---
Combine white cake mix, cream cheese, and the rest of the ingredients. Then put the dough in the fridge overnight. All you have to do is put these in the oven for about 10 minutes, and you'll have delicious cookies that no one will be able to resist.
xx, The FabFitFun Team