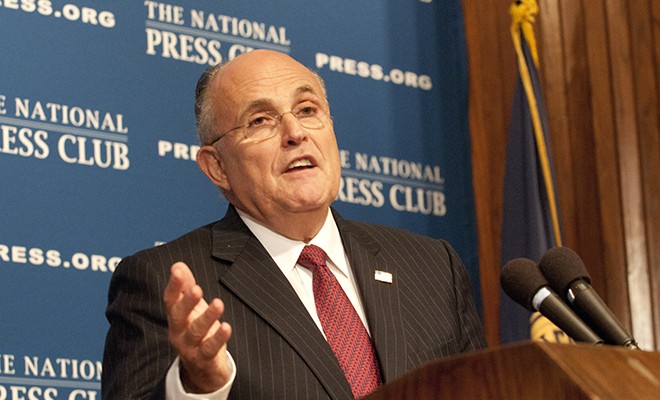 Former New York mayor Rudy Giuliani thinks presidential candidate Donald Trump was "too reserved and gentlemanly" to use the Monica Lewinsky scandal against his opponent Hillary Clinton during Monday's debate.
But Giuliani just showed he isn't afraid to address it himself. Following the presidential debate at Hofstra University, Giuliani stated a few reasons why he thinks Trump is a feminist and why Clinton should be criticized for her treatment of Lewinsky.
After a journalist asked him what Giuliani would've said to Clinton in regards to her statement that Trump isn't a feminist, he responded:
I sure would've talked about what she did to Monica Lewinsky. What that woman standing there did to Monica Lewinsky, trying to paint her as an insane young woman, when in fact Monica Lewinsky was an intern.
He went on to say that Hillary didn't just stand by husband Bill Clinton during the scandal, but she condemned Lewinsky. Hillary called her a "narcissistic loony toon" according to a journal entry from a close friend of Hillary's.
Although Trump didn't bring up this particular scandal, he did mention Bill's affair with Gennifer Flowers and threatened to invite her to sit front row at the presidential debate. He also said he didn't bring up the affair out of respect for Chelsea Clinton who was also at the debate.
What does Hillary think of Lewinsky now? She told Diane Sawyer that she's "free to express herself however she chooses, but that's not something that I spent a lot of time thinking about."
What are your thoughts on this? Weigh in with your take in the comments below!
xx, The FabFitFun Team