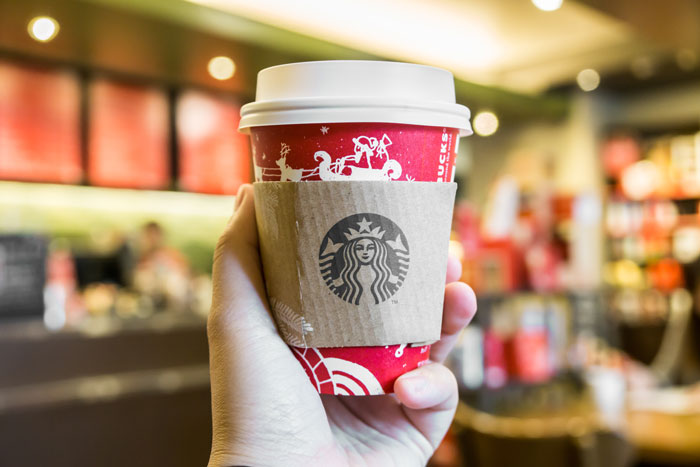 Nothing puts us in the holiday spirit more than sipping on a festive drink from Starbucks. But did you know that a grande-size peppermint mocha can set you back almost 500 calories?
Don't worry — you don't have to sign off mochas and lattes just yet. Here's how to order a lighter version of your favorite holiday drinks at Starbucks.
Pumpkin Spice Latte
If your everyday choice of drink is a PSL, one simple swap can save you almost 300 calories (without skimping on flavor).
Order a Caffè Misto with almond milk
Add one pump of pumpkin spice
Add one pump of vanilla
Caramel Brulée Latte
Yes, you can save calories and money on the fan-favorite beverage.
Order a short-size latte
Ask for non-fat milk
Hold the whipped cream
Iced White Peppermint Mocha
At only 100 calories, this healthy take on the legendary mocha is just as good (if not, better!).
Order a regular ice coffee (or cold brew if you're feeling dangerous)
Add one pump of peppermint
Add one pump of white mocha
Ask for light cream
Eggnog Latte
What's more festive than an eggnog latte? Nothing. Make a few small adjustments to your order to reduce the amount of sugar and calories in each order.
Ask for non-fat or almond milk
Hold the whipped cream
Add an espresso shot (optional)
Snickerdoodle White Mocha
The next time you order this sweet drink, try customizing your own order to save at least 200 calories.
Order a grande-size White Mocha (ask for just one pump of white mocha!)
Add one pump of sugar-free cinnamon dolce
Ask for steamed almond milk
You can never have enough Starbucks! Check out the coffee chain's latest holiday drink.
xx, The FabFitFun Team