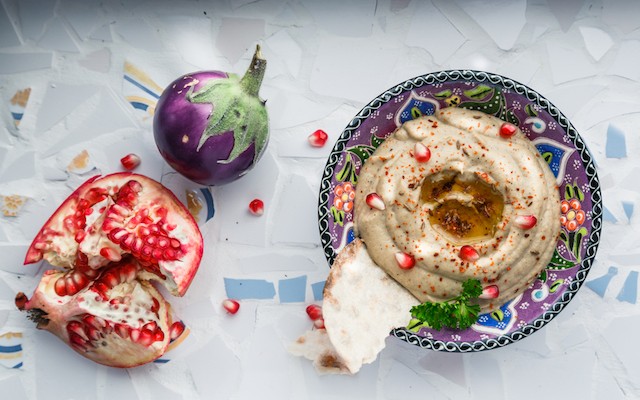 When I dip, you dip, we dip! One of our all-time favorite Middle Eastern side dishes is baba ghanoush. Roasted eggplant in a citrusy, creamy tahini sauce is just so good we could easily eat a tub of it with pita bread.
Not only is it delicious, but it's also very light! Tahini may seem like a heavy cream sauce, but it's not — it's just puréed sesame seeds that give the dish its unique and addicting flavor. Serve this side with pita chips, fresh pita bread, or lavash for a lighter carb option.
Baba Ghanoush
Ingredients
2 large eggplants
2 tablespoons tahini
3 garlic cloves, minced
1/2 cup freshly squeezed lemon juice
1 1/2 tablespoons extra virgin olive oil, plus extra for drizzling over eggplant
Pinch of cumin
Pinch of allspice
1 teaspoon kosher salt
Kosher salt and black pepper to taste
Fresh pomegranate seeds for garnish
Directions
1. Preheat oven to 400 degrees F.
2. With a fork, pierce the eggplant a couple times, then place on baking rack placed over a baking sheet and bake for 20 minutes.
3. Once cooled, remove and discard the skins, then place the meat of the eggplant into a large mixing bowl.
4. With a fork, mash the eggplant until creamy, but do not over mash! Eggplant is meant to be more on the chunky side than completely pureed.
5. Add the tahini, lemon juice, cumin, allspice, garlic, olive oil, salt and pepper, and mix all ingredients together. This is when you taste the the mixture to determine if it needs more salt, lemon, or tahini –everyone's preference is different.
6. Serve in a bowl and drizzle with a little olive oil, then add pomegranate seeds on top.
xx, The FabFitFun Team